Point-of-service time capture, validation, and beyond.

Right Time. Right Place. Right Service.
Time4CareTM is Public Consulting Group's (PCG) state-of-the-art, FLSA-compliant EVV system that captures real-time, location- tracked clock-in/clock-out time entries of in-home care providers through an easy-to-use mobile application.
Keeping a pulse on providers is essential to the health of any state's Home and Community Based Services (HCBS) program. Time4Care helps maintain the integrity of your HCBS program by ensuring providers are on time, authorized services are delivered at the expected location, members are satisfied, and claims are paid appropriately - visit after visit.
Time4Care builds upon PCG's 30-year history working in HCBS programs. Our EVV system was designed specifically with the needs of this population – and those who serve them – in mind.
Configurable, Flexible Design
Our EVV system was designed with several functional modules to support any size consumer- or agency-directed program. Implement Time4Care as a stand-alone time capture and visit verification system, integrate it with a payroll and claims processing platform, or incorporate it into a full care management continuum.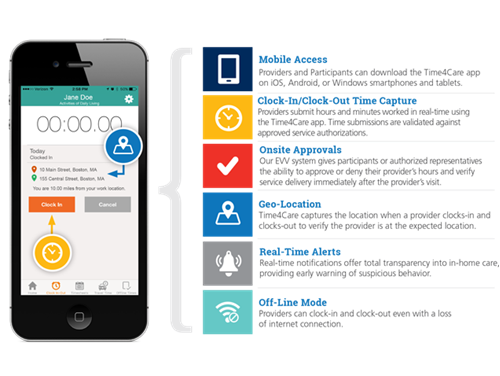 Keeping a Pulse on Providers Using Time4Care
Each year, hundreds of millions of federal and state dollars go to personal care services, home health, community behavioral health, hospice, non-emergency transportation, and other in-home care services. Managing these services and their providers requires a unique and innovative approach. With 30 years of experience in the field, PCG has become a national leader in state agency healthcare consulting and the leading provider of financial management services for participant-directed care programs.
PCG serves 60 state agencies and health plans, including 36 state Medicaid agencies. Our team of experts is comprised of many former health and human services agency professionals with vast knowledge of Medicaid, Long-Term Care, and Home and Community-Based Services. Time4Care is rooted in this expertise.
PCG's EVV solution is applicable to any size program, captures clock-in and clock-out time submissions through a flexible mobile application, and has the capability to record a provider's current location and cross-reference it with the expected provider location at that time. Additionally, the system tracks time against service limits, allows providers to capture tasks and activities performed per service during clock-out, processes provider timesheets, and notates the status of a timesheet, indicating whether or not the time is approved for proper billing.
Additional Features
Role-based user access
Service details, including activities performed and service notes
Incorporation of provider schedules
Sophisticated reporting