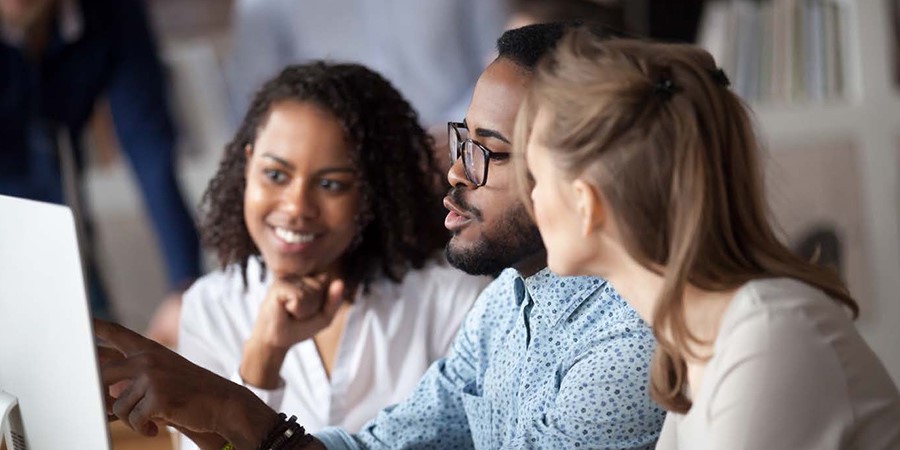 PCG's Workforce Development Solutions
---
Public Consulting Group (PCG) is a proud sponsor of the Forum 2020 from the National Association of Workforce Boards and is excited to be part of this exciting virtual conference. PCG brings a wealth of experience and services supporting workforce development, offering a range of products and consulting solutions.

Workforce systems and services are especially relevant and necessary during the COVID-19 emergency, as the urgent need for employment services rises to the forefront. PCG is ready to find solutions that matter for your needs as we navigate through the pandemic and beyond.


Products & Services
---
VERA: Online Employer and Career Services Solutions
Apprenticeship
Reentry
VERA: Online Employer and Career Services Solutions
---
PCG is helping workforce boards across the country transition to providing participant services and training online through VERA. PCG's Virtual Employment Readiness Assistant (VERA) is an innovative solution to expand the reach of communicative services in an online environment. The VERA portal provides tailored services to customers of all backgrounds and skill levels, while also preserving valuable resources and decreasing barriers to employment.
VERA's fluid design allows users to access content anytime, anywhere, from any smart device.
VERA's gamification principles and badging incentives result in virtual workshops with real-world applications.
VERA's interactive and customizable design allows customers to add services and grow their platform over time to meet budget and scalability needs.

VERA comes with a customized, branded portal site that allows organizations to easily connect customers and staff through a range of virtual offerings. VERA is broken down into modules that offer a range of tools and solutions—each VERA module incorporates best practices and has an interactive design that can be adapted to create custom-built packages. Our team works diligently to ensure that VERA is affordable, and our hub-and-spoke approach allows customers to purchase services as needed, developing a robust platform over time. These features, along with VERA's accessibility and functionality, allow you to preserve valuable resources while decreasing job seeker barriers to employment.
PCG will be hosting two webinar demonstrations for VERA:

July 1, 2020, at 2:00 p.m. (EST)
July 9, 2020, at 2:00 p.m. (EST)
To receive an invite to join an upcoming webinar, RSVP below.
Click here to learn more about VERA. Visit this site for a demo: https://pcgverademo.com


Apprenticeship
---
PCG's apprenticeship policy consulting and program operations services help to connect business communities with workforce talent. Industries and policymakers are increasingly using apprenticeship as a workforce development strategy to grow business communities and increase access to jobs. Apprenticeships are used to provide talent solutions in high-demand, emerging industries like technology, healthcare, and advanced manufacturing.

PCG's Workforce Policy Experience:
assesses, designs, and supports competitive, highly functional workforce development systems
uses interdisciplinary experience in partnering with local and state workforce development boards and executive offices
leads in designing, deploying, and supporting Registered Apprenticeship Programs (RAPs) and Industry-Recognized Apprenticeship Programs (IRAPs)

PCG's Vision & Adaptability:
works with clients to establish a vision around prioritizing and funding paid work-based learning strategies
partners with clients to secure federal funding for cutting-edge workforce development strategies in paid work experience, paid on-the-job training, and RAPs/IRAPs
helps clients across the country support and sustain apprenticeship programs and assists with a range of challenges

Contact us today using the form below to learn more.

Reentry
---
PCG's reentry services for the formerly incarcerated work to help justice-involved individuals secure gainful employment or self-employment after incarceration. Through partnerships with leaders in workforce development, economic development, government, and industry, PCG is supporting job seeker success and building new paths to workforce reentry.

PCG's Streamlined Support:
partners with multidisciplinary teams to help streamline reentry support and reduce redundant efforts and requirements
helps connect justice-involved individuals, workforce boards, community agencies, faith-based organizations, and city and county governments to collaborate on reentry
provides grant-writing support to efficiently secure and administer funds for apprenticeships
offers entrepreneurial training programs for justice-involved individuals that support self-employment and provide financial literacy for building and growing a new business

PCG's Engagement Program:
helps employees operate with a business mindset and work as the driving force in job creation and retention
works with local partners (including employers, staffing agencies, and community groups) to market justice-involved individuals as a workforce resource
uses innovative programs like reverse job fairs to connect employers and job seekers
uses tools such as the Virtual Employment Readiness Assistant (VERA) portal to facilitate and manage employment

Contact us today using the form below to learn more.


How can PCG help?
---
PCG is dedicated to providing solutions that matter for workforce development. Through its groundbreaking programs and services, PCG helps connect job seekers with employers while supporting business communities and removing barriers to employment. As a leader in human capital development, PCG is ready to partner with you and work together to close the skills gap, support economic growth, and rise to the challenges of the modern workforce landscape.