Behavioral Threat Assessment team wins PCG's first EPIC Award for their Entrepreneurial Spirit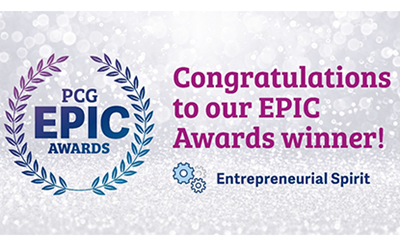 PCG has launched a new quarterly employee recognition program for Fiscal Year 2020, called the EPIC Awards. Focused on a different theme each quarter, the EPIC Awards are designed to help bring the four tenets that define PCG's mission—Entrepreneurial Spirit, Passion, Impact, and Community—to life in a tangible way.
We are thrilled to share that our Behavioral Threat Assessment (BTA) team has been selected to receive PCG's inaugural EPIC Award in recognition of their Entrepreneurial Spirit and ongoing commitment to delivering solutions that matter to our clients and those they serve.
The BTA team, including Brooke Bell, Kyle Bishop, Heather Hayes, Will Gordillo, Michael Schweiger, Kevin Pascual, Paul Wilson, Dana Cox, Olivia Gray, and Hayden Thomas, was nominated for the development of the EDPlan™ Behavioral Threat Assessment (BTA) solution.
Background
Threat assessments are evidence-based methods to provide a consistent, structured approach to support students who present a potential risk of violence, aggression, self-harm, or other self-destructive behaviors. PCG first developed the BTA solution in partnership with a large southeastern district ("District A") who needed a central way to manage their students across schools and train staff to manage threats using a consistent methodology for documenting threat assessments and monitoring behaviors.
Displaying an Entrepreneurial Spirit
In the aftermath of the tragedy of the school shooting in Parkland, Florida, school districts across the country endured intense community pressure to develop strong school safety plans. One such district already working with PCG for case management services ("District B") sought an experienced partner for this important initiative and, after learning about our work developing a successful BTA solution for District A, selected PCG to lead the effort.
Starting in February 2019, the PCG team worked diligently to learn the assessment process, understand the specific needs of District B, and develop a comprehensive process that could be rolled out in August 2019 for the 2019-20 school year. The team worked around the clock to customize the tool to track all state requirements (including things like police participation to help ensure appropriate and varied representation) and help make sure all school staff were trained prior to the first day of school.
The Result
PCG's BTA tool allows threat assessment teams to work with students in order to provide wraparound supports designed to steer youth in a positive direction. The team has attended several conferences, modified the system to meet two out of the three national BTA models, met with thought leaders, and conducted 25 demonstrations in nine states. By listening to BTA clients and prospects, the product is being expanded to manage self-harm/suicide prevention later this year.
The BTA team at PCG embodies the entrepreneurial spirit intended with the EPIC Awards through both client service and the desire to build a thoughtful "best in breed" system. This team is directly supporting a response to the unfortunate incidents of school violence, bullying, behavioral threats, and harm to self that happen all too often. Further, their continued efforts embody PCG's ongoing commitment to social service and best business practices – both of which have been defining characteristics of the firm since its founding 33 years ago.
Congratulations to the whole BTA team for this well-deserved recognition of their hard work.