Bridging gaps between employers, job seekers through tech apprenticeship
An unfortunate reality of today's job market is that IT workers are in short supply while millions of people are underemployed or unemployed. Tech apprenticeship programs offer an effective—and mutually beneficial—approach to bridging the gap between employers and IT job seekers, according to a new LinkedIn article by Public Consulting Group's (PCG's) Uri Shatten.
In his article, Uri explores the specific advantages of apprenticeship for employers and job seekers alike. He acknowledges that while other non-traditional approaches to hiring and training IT workers (such as community college, vocational school, and technology boot camp programs) can be effective for some, these other approaches aren't designed to provide key benefits that can be realized through apprenticeship. For example, upon completion of a registered apprenticeship, an apprentice receives a nationally recognized and portable occupational credential indicating a certain level of competency within the given occupation industry.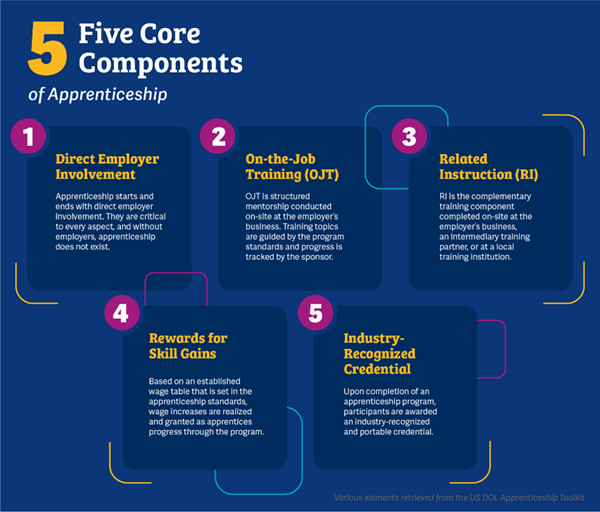 Another key advantage that sets apprenticeship apart from other non-traditional approaches, Uri explains, is training. Apprenticeship involves an incredible amount of training for the apprentice, both on the job and through related classroom instruction. This training is thorough and customized to the industry and employer. It is enhanced by structured mentorship in which mentors nurture apprentices in both soft and hard skills as well as best practices within their specific field, leading to a highly customized, practical, and relevant learning experience. This level of curated and intentional instruction is hard to match within alternative learning environments.
These are just a few of the key advantages Uri highlights in his new article, "Tech Apprenticeships: Bridging the Gaps Between Employers and Job Seekers." He then goes on to discuss a program he is currently working on called Tech Quest Apprenticeship, which is a federally-funded program designed to expand access to the apprenticeship model in technology and technology-related jobs.  
Introducing the Tech Quest Apprenticeship
The Department of Labor awarded Clark University, the lead institution, and grantee, a $12 million grant to create and expand apprenticeship and pre-apprenticeship in technology and technology-related jobs. PCG is the administrative entity for the grant. Tech Quest Apprenticeship is a facilitated collaboration between stakeholders in higher education, the workforce development community, and the private sector. Through this consortium, Tech Quest Apprenticeship seeks to inform, frame, and validate five current (existing) and five future (new) apprenticeship programs across a national footprint. 
The program goal is to enroll at least 4,000 pre-apprentices and 1,000 apprentices over the four-year grant period. Tech Quest is dedicated to serving a wide variety of underrepresented populations who are unemployed or underemployed including reentry populations and transitioning veterans.
If you are interested in learning more about the program or would like to explore opportunities for collaboration with Tech Quest Apprenticeship, Uri can be reached via email at ushatten@pcgus.com.
To read Uri's full post on LinkedIn, click here.