Helping Regis College students shine
On Thursday, October 18th, Regis College held its annual Let It Shine Gala at the Boston Park Plaza, treating the more than 300 guests in attendance to an inspirational evening supporting higher education. PCG Principal Stephen Skinner co-chaired the Gala, which raised more than $900,000 dollars in scholarship funds for Regis students.
This year, PCG's Founder, President, and CEO, Bill Mosakowski, was honored by Regis College with the 2018 Shining Example Award for his lifetime of charitable work throughout the Greater Boston area. In his acceptance speech, Mr. Mosakowski graciously accepted the award "on behalf of all people who volunteer and give back."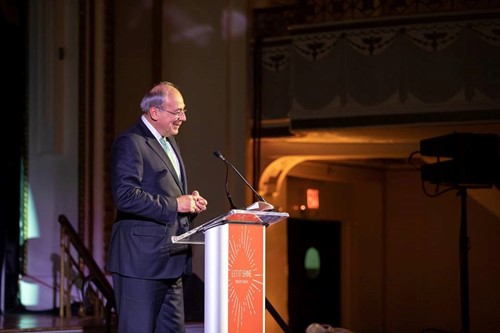 Bill Mosakowski was honored with the 2018 Shining Example Award at Regis College's annual Let It Shine Gala on October 18, 2018. Photo courtesy of Regis College.
Click the video below to watch the tribute video to Mr. Mosakowski. You can also see more pictures from the event on the Regis College Alumni Facebook page here (you do not need a Facebook account to view the pictures).