It's time to recognize our most passionate employees – Announcing PCG's newest EPIC Awards winners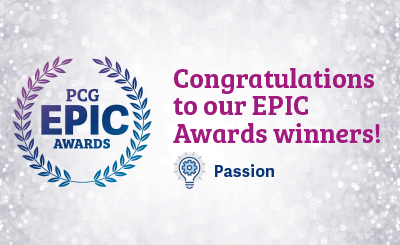 The EPIC Awards are a quarterly employee recognition program designed to help bring the four tenets that define PCG's ethos—Entrepreneurial Spirit, Passion, Impact, and Community—to life in a tangible way. We are thrilled to announce that Jill Auger, Angela Bartling, Meghan Cox, Rawson Pino, and Guy Reynolds have been selected as PCG's newest EPIC Awards winners in recognition of their Passion for the work we do delivering solutions that matter to our clients and those they serve.
Angela, Jill, Guy, Meghan, and Rawson were nominated by members of PCG's management team, including Dale McCourt and Thomas Aldridge, for the unwavering passion and enthusiasm they have displayed while supporting the State of New York's COVID-19 contact tracing efforts.
Program Background
Following the onset of COVID-19 in the United States, PCG worked quickly to establish new contact tracing services to help states address the pandemic. In New York State, PCG partnered with the New York State Department of Health (NYSDOH) to support their efforts to slow the spread of COVID-19 through the NYS Contact Tracing Program.
PCG supports the NYS Contact Tracing Program by facilitating the hiring and employment of contact tracers and managers—from recruitment through interviewing, hiring, training, and management. These contact tracers are in ongoing daily communication with individuals with COVID-19 and are available throughout the quarantine period to complete virtual needs checks and make referrals to social, medical, and financial services.  
The work PCG performs not only directly impacts the lives of the individuals contacted but also (and perhaps more importantly), the communities where those individuals live and work. In order to do the job most effectively, PCG's project team must be thorough in their communications with provided contacts and the timeliness of these contacts is critical to their ability to contain the virus.
Recognizing Our Most Passionate Employees
Collectively, the five PCGers receiving this EPIC Award are responsible for overseeing the recruiting, hiring, payroll, and project management duties. The success of this enormous undertaking is a testament to their passion for the work they do and commitment to the project. that has led to the success of this enormous undertaking. Contact tracers are staffed to cover 12 hour per day shifts, seven days a week obligating the PCG team to work tirelessly to meet the demands of this project. There are a lot of people that work hard on this project but if not for the incredible passion shown, each and every day, by Angela, Guy, Jill, Meghan, and Rawson, this project would not be as successful as it has been.
Commenting on their contributions to the project, Dale McCourt stated "It is their passion for their work that fuels their ability to work tirelessly week after week delivering outstanding results. I admire these five individuals for their calm demeanors and fantastic people skills while carrying such an enormous responsibility."
Please join us in congratulating Jill Auger, Angela Bartling, Meghan Cox, Rawson Pino, and Guy Reynolds for this well-deserved recognition of their passion and hard work. It is because of colleagues like them that PCG continues to make an impact in the communities where we live and work.