PCG Expands Contact Tracing Services with Latest Project Award in New Jersey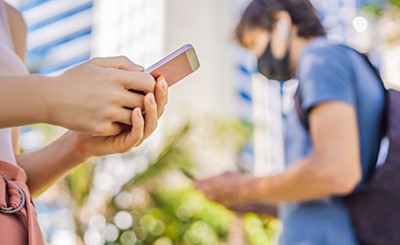 Garden State joins growing list of states partnering with PCG to stop the spread of COVID-19
[Boston, MA] August 4, 2020 – Public Consulting Group, Inc. (PCG), a leading provider of solutions implementation and operations improvement services to the public sector, is pleased to announce that it has been awarded the contract to support the State of New Jersey's COVID-19 contact tracing initiative. This news follows an announcement made late last month by the New Jersey Department of Health confirming the award. PCG was selected from a competitive field of applicants based on its record of success, resources, and commitment to serving the diverse communities of New Jersey. New Jersey is the latest state to partner with PCG in their efforts to stop the spread of the coronavirus since May 2020. The firm is also supporting contact tracing programs in New York State, Wisconsin, and Arkansas.
"Public Consulting Group has always been guided by our mission to help our public sector partners deliver the best possible outcomes to the communities they serve," said William Mosakowski, Founder, President and CEO of PCG. "While this pandemic has caused unprecedented, widespread disruption, we remain committed to helping our government clients across the country rise to the challenges of COVID-19 and are proud to continue to deliver innovative solutions that matter, like our new contact tracing services."
In New Jersey, PCG will build and deploy a robust workforce of contact tracers to support local health departments across the state in their efforts to quickly identify and alert individuals who may have been exposed to the virus. PCG is proud to work with the state's Community Contact Tracing Corps, which has been developed through the New Jersey Department of Health, the administration of Governor Phil Murphy, and the Rutgers School of Public Health. To ensure the program's success, PCG will work alongside a team of three subcontractors with recognized expertise in workforce recruitment, healthcare staffing services, and community outreach: The Computer Merchant LTD, Staffing Etc., and Kivvit respectively.
John Danieli, President and CEO of The Computer Merchant Ltd., said, "TCM has long been a workforce solution resource for private sector New Jersey companies and we are thrilled to now work directly with state government as well."  Added Hope Porter, Co-Founder of Staffing Etc., "As a healthcare professional whose company provided Newark Airport screeners during the 2014 Ebola crisis, we are honored to offer help to New Jersey once more." 
Maggie Moran, Kivvit Managing Partner, said, "We recognize the vital importance contact tracing plays in creating a safer environment for people across the state, especially for minority communities hit hardest by the pandemic. Kivvit is eager to use our expertise as we partner with PCG to bolster the ongoing efforts of health officials to combat COVID-19. New Jersey is our home. It's where our families live, our children play, and our friends work. We stand ready to do our part in helping our state overcome this dreadful disease."
PCG's contact tracing services combine the best of the firm's offerings for public health, project management, and human capital management in addressing the pandemic. With programs successfully underway in New York State, Arkansas, and Wisconsin, PCG has proven experience supporting thorough and effective contact tracing programs, providing a dedicated team with the experience and skills sets to meet this unprecedented challenge.
About Public Consulting Group
Public Consulting Group, Inc. (PCG) is a leading public sector solutions implementation and operations improvement firm that partners with health, education, and human services agencies to improve lives. Founded in 1986 and headquartered in Boston, Massachusetts, PCG has over 2,500 professionals in more than 60 offices worldwide—all committed to delivering solutions that change lives for the better. The firm has four designated practice areas with extensive experience in all 50 states, clients in six Canadian provinces, and a growing practice in Europe. Often combining resources from two or more practice areas, PCG offers clients a multidisciplinary approach to solve their challenges or pursue opportunities. To learn more, visit www.publicconsultinggroup.com.
About The Computer Merchant
The Computer Merchant, Ltd. (TCM) is a Veteran-Owned, national provider of workforce solutions and staffing services in business since 1980. TCM has deep national public and private sector, health and human services and information technology delivery expertise across all 50 states. Since 2010, it has deployed over 10,000 consultants in 34 Fortune 500 companies, 150 Fortune 1000 businesses as well as government agencies across the United States.
About Staffing Etc.
Staffing Etc. is a Minority Business Enterprise (MBE), Woman-Owned (WO), Small Disadvantage Business (SDB). Since 2003, Staffing Etc. has provided RNs, LPNs, CNAs, Social Workers, Physicians and Allied Health Professionals and administrative staff to our clients at their time of need, staffing over two million hours of quality staff throughout the nation.
About Kivvit
Kivvit, an award-winning independent public affairs and strategic communications firm with decades of experience in government, politics, issue advocacy campaigns and community relations efforts in the state. Kivvit has partnered with Jeannine LaRue on this critically important effort. Larue has spent almost 40 years serving the public on policy, governmental and political issues in the public and private sectors. She is a founding board member of the Wynona's House Child Advocacy Center in Newark and has served on numerous boards and commissions across the state.
Media Contact
Stephen Skinner, Public Consulting Group
(617) 717-1150
sskinner@pcgus.com