Season's Greetings from PCG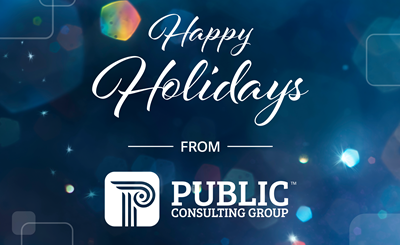 As we reflect on PCG's 36th year serving the public sector, we are grateful for the opportunities we have had working alongside organizations to design and deliver solutions that change lives for the better. It is truly an honor to support the vital services and programs our public sector clients and partners provide to those in need in our diverse communities worldwide. To show our appreciation for our clients, we are proud to continue our annual tradition of charitable giving in lieu of sending holidays cards. The following organizations have been selected for our 2022 holiday giving campaign as they support the missions and community interests of our public sector partners and the populations they serve:
Borderless Arts Tennessee
El Patojismo
Massachusetts Wonderfund
National Alliance on Mental Illness (NAMI)
National Cares Mentoring Movement
St. Francis House
Borderless Arts Tennessee
Established in 2001, Borderless Arts Tennessee is part of an important history of equality and opportunity in the arts. In partnership with and in support of artists, parents/guardians and educators, we work to ensure there are resources, tools and opportunities for arts programming in schools and communities statewide. From music and theater to visual arts and dance, we strive to open the wide-ranging world of the arts to Tennessee. Learn more at https://borderlessartstn.org/.
El Patojismo
El Patojismo aims to build dignified ways of life for children and teenagers in Jocotenango, Sacatepéquez, Guatemala through human, technical, and academic development programs. The human part focuses on the development of critical and analytical thinking, recognition of the social reality of the country, conflict resolution, responsibility, good interpersonal relationships, proactivity, and service. The technical and academic parts focus on educating students so that they can become bilingual, learn technological tools, understand sciences, and develop good public relations. Learn more at https://elpatojismo.edu.gt/.
Massachusetts Wonderfund
Massachusetts Wonderfund is a private nonprofit, 501(c)3 serving over 53,000 kids engaged with the Massachusetts Department of Children and Families who have been impacted by abuse and neglect. Our services include providing emergency aid services, enrichment opportunities, everyday essentials such as toiletries and school supplies, access to cultural experiences across the Commonwealth, holiday gifts and more. We believe that every child deserves to experience the wonder of being a kid. Learn more at https://wonderfundma.org/.
National Alliance on Mental Illness (NAMI)
NAMI is the nation's largest grassroots mental health organization dedicated to building better lives for the millions of Americans affected by mental illness. What started as a small group of families gathered around a kitchen table in 1979 has blossomed into the nation's leading voice on mental health. Today, we are an alliance of more than 600 local affiliates and 48 state organizations who work in your community to raise awareness and provide support and education that was not previously available to those in need. Learn more at nami.org.
National Cares Mentoring Movement
The mission of the National CARES Mentoring Movement is to secure, heal and transform the lives of impoverished black children by inspiring, recruiting and mobilizing masses of caring black men and women to mentor and nourish them. Our national group-mentoring programs focus on the emotional, social, and academic development of our children and the wellness of the adults who parent, mentor and educate them. Learn more at https://caresmentoring.org/.
St. Francis House
St. Francis House is the largest day shelter in Massachusetts supporting people experiencing homelessness and poverty. We aim to rebuild lives by providing refuge and pathways to stability. Our basic, rehabilitative, and housing services overlap and build on one another to provide our guests with continuous and comprehensive support. Learn more at https://stfrancishouse.org/.