Special education subject matter expert shares insights into supporting students with special needs during the pandemic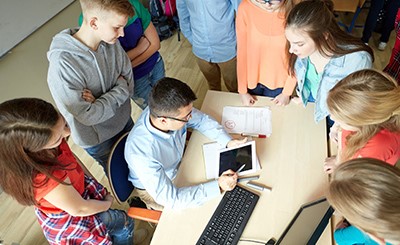 The 2020-21 school year has already seen unprecedented expectations placed on school district administrators and educators nationwide – a trend which will likely continue until the pandemic is managed.
Over the summer, state education agencies required local school districts to create "re-entry plans" to outline how students can safely and equitably return to school in multiple learning environments. These plans primarily focused on supporting the majority of students but offered minimal, if any, support on the unique needs of students with Individualized Education Programs (IEPs). That's according to an article authored by special education subject matter expert (SME) Matthew Korobkin that was published by eSchool News on September 25, 2020.
Mr. Korobkin stresses that teachers and school leaders are not doctors or scientists, and they should not be expected to have expertise in the spread of infectious diseases. In the absence of specific guidance supporting the implementation of special education during reentry, Mr. Korobkin encourages districts to establish COVID-19 Special Education Steering Committees. These committees, he argues, will help to enable districts to make informed decisions on the nuances specific to providing students with IEPs a free and appropriate education.
Drawing on his experience as a former Special Education Officer to a state education agency, policy specialist, and special education teacher, Mr. Korobkin outlines the key stakeholders who should comprise the committee (and why), key areas of focus, and specific action items.
An earlier version of this article was published on the EDPlan blog as part of its ongoing "Back to School" series. Mr. Korobkin adapted the piece for eSchool News, a monthly print and digital newspaper for K-20 decision-makers seeking to learn more about innovative ways to achieve their education goals.
Read the full article on eSchoolNews.com here.