The Impact of Apprenticeship in Today's Economy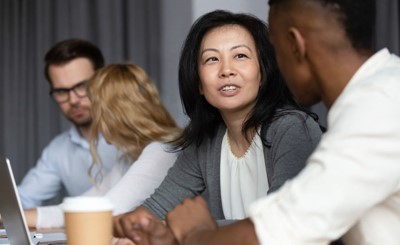 Apprenticeship is a powerful tool for growing the American economy. However, despite the long history of apprenticeships in the U.S., they have yet to be widely adopted as an employment model outside of traditional trades such as construction and manufacturing.
Employers across the nation struggle to find innovative methods for recruiting, training, and retaining employees, while apprenticeship programs have already proven to be a viable option for growing the American workforce. According to the US Department of Labor (US DOL), 94 percent of apprentices who complete their programs are retained long-term by their employers¹ and 87 percent of apprenticeship sponsors reported that they would strongly recommend registered apprenticeship programs.²
Ted Norman, Navy Veteran, former State Director of Apprenticeship (Florida), and current Business Implementation Manger at Public Consulting Group (PCG) elaborates further:
Employers that use and implement the Registered Apprenticeship system understand that it is a powerful tool to recruit and retain qualified personnel for their workforce needs. When companies maintain highly skilled workers, those companies have a significant advantage over their competitors and can be more responsive to the needs of their customers. The Registered Apprenticeship system cannot solve all the challenges employers meet, but it can have a considerable impact on a company's economic well-being.
As states embrace apprenticeship expansion, PCG is partnering with local and state executive offices, federal agencies, higher education leadership, and industry experts to develop a framework that will educate and engage employers and participants.
Rather than outsourcing jobs, apprenticeship can help companies and organizations close workforce gaps, reduce turnover, and increase productivity while cultivating a more diverse, equitable, and inclusive work environment.
Apprenticeship programs are available in multiple industries including (but not limited to): information technology (IT), healthcare, cybersecurity, renewable energy, advanced manufacturing, engineering, financial services, digital marketing, and education.
So what is stopping organizations from adopting apprenticeship in their companies? Let's take a moment to acknowledge the elephants in the room: time and money. 
Some common myths around apprenticeships include expense or limited time and resources to commit to a program. Employers, however, control how much an apprenticeship program costs; because apprentices are trained on the job, employers can save up to 50 percent on the apprentice's hourly rate. This not only reduces the cost of onboarding, but contributes to a positive return on investment.³ Employers may also qualify for state tax credits or wage offsets via on-the-job training reimbursement. The same methods currently used by employers to onboard new hires can be used for apprenticeship onboarding.
"Employers are able to tap into funding streams made available by the Department of Labor specifically for apprenticeships," says Kim Tesch-Vaught, Business Development Supervisor and Project Manager at PCG. "One effective way to maximize government and community funds is by using the braided funding method." 
Braiding funds is the act of using federal, state, local, private, and other types of funding streams to support a comprehensive and integrated service. Instead of the participating organization paying all costs out of pocket, the cost burden is spread among multiple resources.
Federal Funds: U.S Department of Labor, U.S. Department of Education, Veteran Affairs, Pell Grants, Federal Work Study (FWS), and other departments.
State Funds: Department of Education, Department of Labor, Department of Corrections, Veterans Administration, Governor's Office, General Revenues, and other funds.
Local Funds: Workforce Development Board, County, City, School Districts, Higher Education, Libraries Systems, and other funds.
Private Funds: Employers, Foundations, Industry Associations, and other organizations.
Bottom line, apprenticeship is an industry-driven, high-quality career pathway training where employers can develop and prepare their existing and future workforce. What are you implementing in your business that will help build a better, stronger, and more competitive American workforce?
Click here for more information about PCG's efforts to expand apprenticeship programs nationwide.
For general inquires, click here and a PCG representative will be in contact with you.
---
Resources:
---