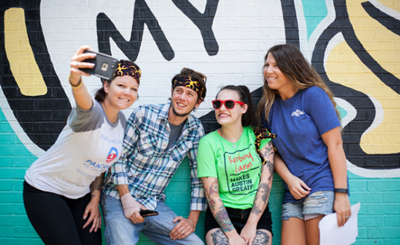 At PCG, we take Kidonomics seriously.  All the research shows that making strategic investments in early childhood can pay big dividends in school, in the workplace, and throughout life.  We were thrilled to talk about it at the Institute for Emerging Issues Focus Forum in February and SXSWedu in March, but even more pleased to back up those words with tangible actions.
At both a corporate and an individual level, we are proud supporters of the United Way and the great work they do supporting children and families.  That's why we were so honored to serve as the title sponsor of the United Way for Greater Austin's Ruthless Good Scavenger Hunt.  On April 8th, just a few weeks after the close of SXSWedu, teams spread out across the city to solve clues and find unique Austin locations.  Along the way, nearly $100,000 was raised for early childhood education, dropout prevention, and other important initiatives that will directly support the Austin community.
Not a day goes by at PCG where we do not recognize and appreciate that the work we do in the public sector is ultimately to benefit real people.  As part of this responsibility, PCGers are encouraged to volunteer with worthwhile organizations.  This dedication often extends beyond working hours when our employees volunteer their time, treasure, and talent for organizations in their communities.
With our deep commitment to Austin and Texas, it comes as no surprise that many choose to spend their time with the United Way for Greater Austin.  Jeff Eads, a senior project manager in our Austin office, is one such volunteer, and his efforts were recently highlighted on the United Way's website.   As Jeff says, his favorite part about volunteering with the United Way is "knowing that what I do makes a positive impact across Austin."  This is true for many PCGers, and we are proud to partner with the United Way to make Austin a better home for all.