PCG at SXSW EDU 2018: 5 sessions on how all students can succeed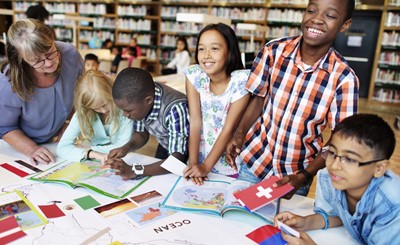 Whether it's "no child left behind" or "every student succeeds," our country has long embraced—and legislated—the principle that in U.S. schools, all students deserve to succeed.
Here at PCG, we have always believed "all means all." All students in special education. All English language learners. All students with disabilities.
We're excited to report that at this year's SXSW EDU conference in Austin, in March, PCG will be sponsoring, supporting, or participating in five presentations that together demonstrate what "all means all" means, and requires, when it comes to ensuring success for all students.
Following on PCG's successful participation in three panels at the 2017 SXSW EDU, we're thrilled to be having an even bigger presence at this year's gathering. Collectively, our speakers will illustrate what it takes to bring together all the services and supports—from education, health, and human and social services—to help all students realize holistic success, not just in school, but throughout their lives.
First, on March 5, PCG's Meredith Keedy-Merk participates in "The 1% CAN do it!" This panel will highlight personal experiences and lessons learned about instruction for students with the most significant disabilities. Meredith, who's with Project SUCCESS in Indiana and was formerly a special education director in a local Indiana school district, will talk about innovative ways to unpack standards, identify access points, and design instruction that integrates communication, academics, and functional skills, with specific tools and resources participants can start using immediately.
Next, on March 6, in a presentation titled "High Expectations & Shared Responsibility for All," PCG partner, Daniel McNulty, State Project Director for Indiana's PATINS Project (Promoting Achievement through Technology and Instruction for all Students), presents on how to tackle a major question for special education: How do you attain, maintain, and evaluate the implementation of high academic expectations for all students, by all educators, in all settings, all the time? As in Meredith's presentation, Daniel will demonstrate tools and resources that provide meaningful access to curriculum and instruction for all students using innovative design principles. Daniel's experience includes teaching in a K-6 Intense Interventions classroom and serving as statewide accessibility standards coordinator for Indiana.
Also on March 6, Juan Pablo Romero Fuentes, creator of Los Patojos ("the little ones"), the 300-student school/community center/health clinic in Guatemala, describes his work in a SXSW EDU featured presentation titled "Changing Guatemala One Dream at a Time." Los Patojos began in a single room in Juan Pablo's parents' home, and now he is pursuing plans to build an innovative campus in Jocotenango with incubation labs, horticulture programs, and culinary arts, which he ultimately plans to expand to more than 100 schools throughout Guatemala. He's been honored as a "Top 10 CNN Hero" for his work. The ethos of Los Patojos parallels that of PCG's, thus bringing this partnership together. PCG's experience providing holistic services to all children has helped provide strategic planning, consulting, and fundraising support to Los Patojos. PCG has been honored to support Juan Pablo in his work, which he describes so wonderfully: "When a child is able to break the cycle of violence and fear, beautiful things happen, giving kids a power they never knew existed." (You can learn more at http://lospatojos.org.gt.)
On March 7, at "All Aboard!" PCG's Ashley Quick offers educators evidence-based methods for serving students with limited communication, autism, and/or significant disabilities. Ashley's messages will include: Never underestimate the abilities of your students. Be willing to step outside your comfort zone. And collaborate with every professional you can. Ashley works with Meredith Keedy-Merk on Project SUCCESS in Indiana, and she has 10 years of experience as a special education teacher in the elementary setting.
Finally, on March 7, we wrap it all up with the PCG-sponsored session called "TEACH: A holistic lens to improving all kids' lives." TEACH is an acronym for the five pillars PCG sees as critical to achieving significant, sustained, life-altering opportunities for all kids:
T is for Two-Generation Strategy: Parents and guardians must be engaged early and often.
E is for Early Investment, the essential need for heavily funding early childhood development.
A goes back to our earlier statement that All Kids must be included (special education, ELL, Gifted, etc.).
C stands for Cradle to Career: Even when making short-term investments, you have to be taking a long-term view of their lifelong impact.
H is for Holistic, addressing all needs: health, developmental, psychological, social, educational, and more.


The session will focus on what TEACH means, why it's essential to unlocking an equitable future for our children and their well-being, how health and education and child development interrelate, and what programs and models are currently optimizing communities' capacity to implement TEACH.
Covering the five pillars of TEACH is a superb panel of speakers that includes:
Ellen Cohn, Deputy Commissioner of the Connecticut Department of Education and leader of multiple CDOE offices, including the Special Education unit serving 72,000 students statewide.
Margie B. Gillis, president and founder of Literacy How Inc. in North Haven, Conn., which provides teachers professional-development opportunities on how best to implement evidence-based reading practices in the classroom.
Paige Atchley, a Tennessee Department of Education program director who oversees Tennessee's "Read to be Ready" summer grant program, now entering its third year having won steadily increased funding to enroll 7,700 students in camps.
Connecticut state Representative Patricia Miller (D-Stamford), General Assembly assistant majority leader and advocate for reading readiness and other measures to improve Connecticut's education achievement gap.
Elizabeth Alves, Assistant Commissioner for the office of early learning and literacy at the Tennessee Department of Education where she leads departments responsible for quality improvements in statewide early childhood and literacy programs.
Executive Director for Connecticut's Commission on Women, Children, and Seniors, Steven Hernández, Esq.
In all our work with public-sector clients, PCG has long been committed to being a leader in improving life outcomes, through a holistic approach to all levels of education, starting in early childhood, and health, human services, and technology. Engaging with the extraordinary community that attends the SouthBy conference is a tremendous opportunity for PCG to collaborate, innovate, and share holistic and integrated best practices with thousands of the nation's thought leaders in dozens of education-related fields.
We're excited about how all the sessions we're presenting, sponsoring, and supporting can help fulfill the promise that all students–truly, all students–get the opportunity to succeed.