PCG Cares Spotlight: Tonya Graham and son Chase support Children's Miracle Network
At PCG, we are guided by an unwavering commitment to our clients in the public sector. PCG Cares is an extension of that commitment, empowering each full-time employee to volunteer up to 32 hours each fiscal year to work with and support the communities we serve.
We connected with Tonya Graham from Public Partnerships, a PCG company, who recently used PCG Cares hours in support of the incredible work that her son, Chase, does as a spokesperson for the Children's Miracle Network (CMN). Read on to learn more about this amazing cause!
Pictured: Tonya, far left, with 10-year-old son Chase, center, 14-year-old son Landon, and husband Josh, both right, and Ryan Seacrest and Dan + Shay on Christmas Eve 2018 delivering gifts to the children of CMN Hospitals.
To start off, we'd love to learn more about you and your role at Public Partnerships. What does a typical day look like for you?
I am a Support Broker for the Self Directed Waiver Program in Tennessee. A typical day involves lots of telephone calls, home visits, and working with the Department of Intellectual Disabilities to ensure that workers are working within program guidelines.  
Sounds like you are busy doing great work. We understand that you also lead a busy life outside of the office. Tell us more about your son, Chase.
Chase's story is a hard one to hear, but not one he doesn't know. My husband, Josh, and I are very honest and forthcoming with him about his story and his life before we became his Mom and Dad. His birth was not in a hospital and his first breath should have taken his life, but it didn't. Chase is a fighter.
When he arrived at the hospital, he was placed on Extracorporeal Membrane Oxygenation (ECMO), a heart/lung bypass machine that gives a person's body time to heal when it is too sick to function (it is considered a "Hail Mary" before families are asked to say goodbye). During that time, the doctors also discovered that Chase tested positive for opiates, marijuana, cocaine, and benzodiazepines. Chase had to be detoxed using methadone, as he was coming off of the sedation from the ECMO and was weaning off of a ventilator. After that hospital stay, Chase went home to one of his biological family members, and seven days later, he was brought back to the hospital by the Department of Children's Services because he was not breathing and did not have a heartbeat. He was placed back on a ventilator and when he was discharged from the hospital the second time, he came to our family.
Since then, Chase has spent over 150 nights in the children's hospital, at least 40 of which he has been in intensive care. We have had five close calls where we almost lost him. Children's Hospital at Vanderbilt taught us how to be his parents and how to keep him alive while letting him live. He was a pre-adoptive foster placement; he came to us at seven weeks old and his adoption was finalized weeks before his second birthday.  
Chase certainly is a fighter. How did he get involved in CMN, and what does the time commitment for that look like?
Chase was asked to get involved in CMN by the local CMN administration. They typically select kids based on their story, personalities, and how much CMN Hospitals have influenced their lives. Josh and I are on the local Family Advisor Council for the Children's Hospital at Vanderbilt. I think that is how they learned about Chase, but often the physicians will recommend children.
Time commitment kind of ebbs and flows. Often, we volunteer multiple times a week depending on the appearance. For example, Country Music Association (CMA) Awards week is usually very busy and Country Radio Seminar week is a big time commitment as well. Sometimes, we are sent to work in a different state, while other events like Dance Marathons are just several hours in one day. We usually average 10 hours a month, but could volunteer 20 in one week if the need is there.  
To Chase, it is fun work. He enjoys it, but being "on" all day is hard for a ten year old! He knows that he is working hard to help kids like him. CMN Hospitals never turn away children due to inability to pay. CMN's various fundraising partners and programs support the nonprofit's mission to save and improve the lives of as many children as possible.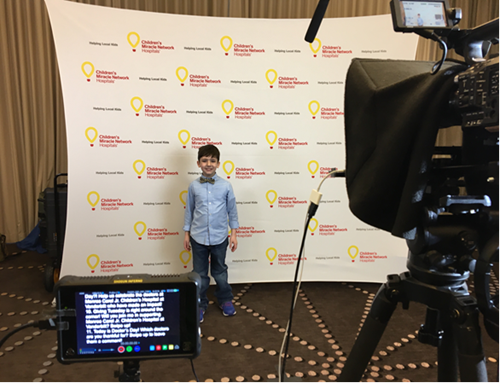 What events has Chase participated in recently?
Last month, Chase got to walk the red carpet at the Country Music Awards and share his story. In the same week, he acted as tour guide to several country artists (including Cole Swindell, Jon Pardi, Eric Paslay, and Noah Schnacky) and gave tours of his hospital in addition to helping interview these celebrities on CMN Hospitals' Untold Miracles Podcast in Seacrest Studios. This will solicit donations and celebrity engagement for the hospital and CMN.
You can find more photos and a video of Chase in this blog post on the CMN Hospitals' blog here.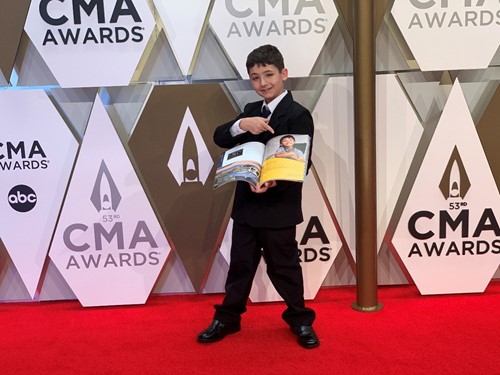 Does Chase have any favorite country music personalities or celebrities that he's met?
He has a lot of "favorites." He typically likes the Miss America Contestants (state/local title holders). There is a joke that Chase has a girlfriend in every zip code and t-shirts have even been made that say "Chase's Ladies" with one girl for every zip code. One shirt sold for quite a bit of money at a silent auction and we all get a good laugh every time we see someone wearing one.  
His favorite country music celebrity is "Mr. Blake," Blake Shelton. Chase had the opportunity to sing on his Christmas CD and they have worked together a few times. It is adorable; Blake is so tall and Chase is so short. Chase also likes John Schneider, who played Bo Duke on the Dukes of Hazzard and is also one of the founders of CMN. He teaches Chase how to drive fast and jump cars. They spend a lot of time discussing how to "floor it."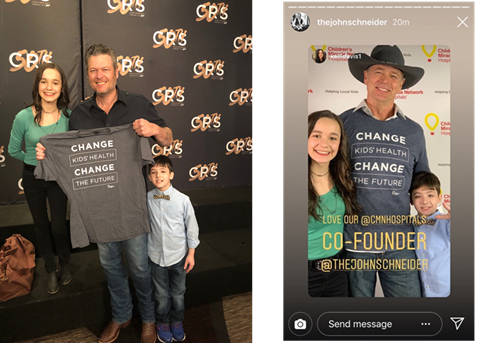 Pictured above: Chase with Blake Shelton, left, and with John Schneider, right, earlier this year during a country radio seminar. He filmed commercials and did still photos with various country music personalities for CMN. 
How sweet. Has Chase developed friendships with any of the other CMN kids?
CMN kids are all friends in real life, especially the local ones. Chase's two best friends in CMN are Jessica and Maddox. Jessica is a sixteen-year-old brain cancer survivor. She helps "train up" Chase and prepare him for celebrity events and meet and greets. She is great!! Our family loves Jessica so much.  She even babysits Chase in real life. His other bestie is Maddox. Chase had taken Maddox under his wing and was "training her up" much like Jessica worked with Chase when he was much younger.  Maddox had Down Syndrome and a congenital heart defect. She sadly passed away this summer at five years old. It was one of the hardest things we have ever had to walk through with Chase. He still talks about Maddox several times per week and she remains a shining light in our life.
The pitfall of so many critically ill children being friends is that there are a lot of hospitalizations, close calls, and sometimes we lose a friend. A heart that has been broken is a heart that has been loved and we don't live our lives scared that we will be hurt by losing one of the extraordinary children we have the honor of loving.  
That's such a powerful message. What have you enjoyed most about these volunteer experiences?
My kids are so spoiled by the volunteer experience. They have had so much opportunity that they wouldn't have had otherwise. The thing I have loved the most is twofold. First, I love watching my children grow as people. Every time I think that there is a situation they won't be able to handle, they shock me and show up like rock stars. Second, I like getting Chase's story out there. We talk to a lot of college and high school students. It is my job to address up to thousands of people and tell them about Chase. If we reach one student who doesn't go down the wrong path because of our little boy, it is worth every tireless hour we spend speaking and showing up. If we meet one student that decides to work in a field that helps kids like Chase, it is also a win. A lot of really cool things have happened for the hospital in honor of Chase. For that, I am grateful.  
Thank you, Tonya, for sharing Chase's story with us!