PCG celebrates NC STEM Schools of Distinction
In September, three public schools in North Carolina were recognized for their exemplary leadership and instruction in science, technology, engineering and mathematics (STEM) education. Greene County Middle School, Meadowview Magnet Middle School, and Yadkin Valley Regional Career Academy are the latest schools to be recognized under the North Carolina Department of Public Instruction's (NC DPI) STEM Recognition Program. Since the program's inception in 2014, 29 public schools have been recognized as STEM Schools of Distinction.
This is the fourth year that PCG has partnered with NC DPI and the Superintendent's Office to sponsor the luncheon event. We were very pleased with this year's turnout which included representatives from Governor Cooper's office, Lieutenant Governor Dan Forest's Office, The Friday Institute and Higher Education – all of whom are friends of education in North Carolina. The three recognized schools were presented with a special plaque honoring their distinguished approaches to leading and learning in STEM education. We were thrilled to be able to help celebrate these schools' success in STEM education.
Congratulations to all three STEM Schools of Distinction!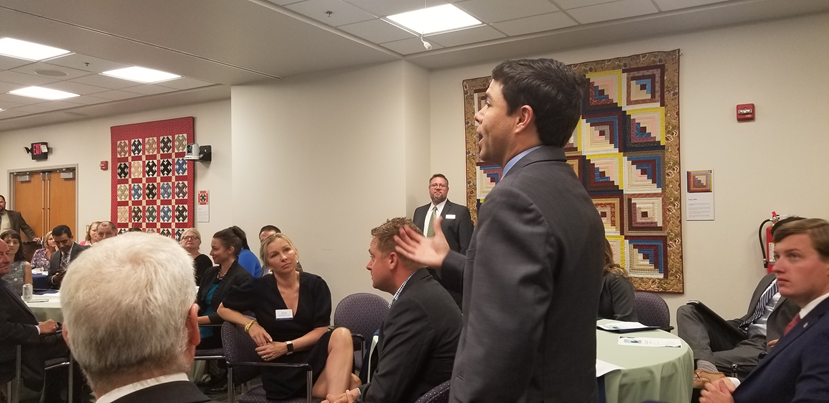 PCG's Amy Smith listens as NC DPI State Superintendent Mark Johnson speaks at the luncheon. Pictured to his right is Mr. Wade Butner III, Aide to Superintendent Johnson.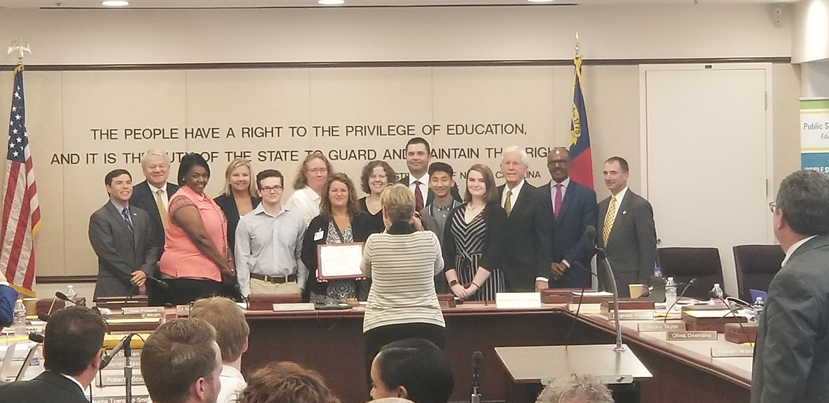 Teachers and students from the winning schools that were honored at the NC State Board of Education meeting just before PCG's event.
Read the full press release from the NC DPI via EducationNC (EdNC) here.