PCG continues 2nd year of collaboration with Illinois State Board of Education (ISBE) and Chicago Public Schools (CPS)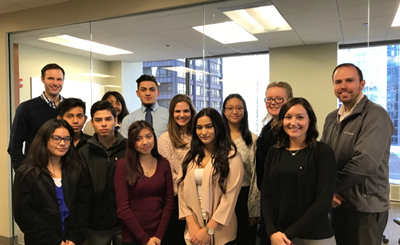 PCG's Chicago office hosted eight CPS high school students as part of CPS's Office of College and Career Readiness Job Shadow Day. All eight students are in the entrepreneurism/business career pathway. PCG's participation in Job Shadow Day continues to strengthen the collaborative effort between PCG, ISBE, and CPS to support students' college and career readiness.
The day was full of information and fun. The PCG Chicago office kicked off the Job Shadow Day by presenting an overview of PCG and then encouraged the students to work hard and make good choices in their lives. They also led the students through a group project, Shark Tank style, that presented them with a real-life problem in their school and challenged them to develop a pitch for a business idea that solves the problem. PCG employees were the Sharks who provided "expert" advice on the potential opportunities and/or pitfalls of each team's business plans. The winning teams took home the grand prize: business cards from the PCG team along with a promise to review their resumes in hopes of landing a summer internship!
All the participating PCG staff greatly enjoyed the day and appreciated the chance to interact with high school students from the community. It is our hope that this will be a long lasting and fruitful relationship with ISBE and CPS.