PCG Continues Relief Efforts in Puerto Rico and the US Virgin Islands after Hurricane Maria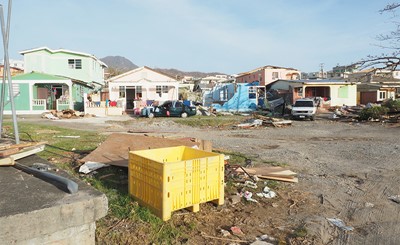 Boston, MA, October 24, 2017 - Public Consulting Group (PCG), in continuing a long, unwavering tradition of commitment to the people and places it serves, has donated $133,931 to relief efforts in Puerto Rico and the US Virgin Islands after Hurricane Maria.  This figure includes personal donations by staff as well as a matching contribution from the company itself.  In all, 372 employees voluntarily contributed to organizations conducting relief efforts.
CEO William Mosakowski said that he could not be prouder of the company's response.  "Every time the call goes out, my colleagues from around the world step up," Mosakowski said.  "The company is proud to aid in their generosity and to make a matching donation."
The fundraising effort was spearheaded by PCG Cares, an initiative within PCG to support populations in need and improve lives in the communities it serves. As part of the program, employees are encouraged to spend one day a quarter volunteering their time with a non-profit organization.
About Public Consulting Group 
Public Consulting Group, Inc. (PCG) is a leading public sector management consulting and operations improvement firm that partners with health, education, and human services agencies to improve lives. Founded in 1986 and headquartered in Boston, Massachusetts, PCG has nearly 2,000 professionals in more than 50 offices across North America and in Europe. The firm has six designated practice areas with extensive experience in all 50 states, clients in six Canadian provinces, and a growing practice in Europe. Often combining resources from two or more practice areas, PCG offers clients a multidisciplinary approach to solve their challenges or pursue opportunities. To learn more, visit www.publicconsultinggroup.com. 
Media Contact
Stephen Skinner, Public Consulting Group
(617) 717-1150
sskinner@pcgus.com