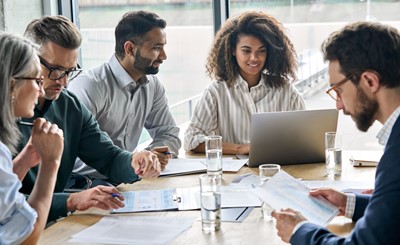 Public Consulting Group (PCG) is committed to employee engagement and making employees feel valued as a way to improve their overall experience. With a rapidly changing job market and employee burnout on the rise in organizations across the globe, PCG is focused on continuing to provide managers with essential resources to support and promote meaningful connection.
PCG's employees are at the heart of our service, as we work with our clients to improve lives each day. We strive to provide practical ways to inspire and motivate them, giving their work, in all aspects, purpose and direction. Our company also strives to provide a welcoming environment to every person who wants to join our team. We value diverse talent and strive to offer the best opportunities possible to every applicant. Our focus is on people.
As the scope of ways PCG can connect with people continues to broaden, our company wants to be sure we share new, innovative programs with our managers to promote the most modern approaches to engagement. To move forward with this effort, at the end of 2021, the firm created and facilitated the virtual discussion series, "Focus on Engagement" for all managers. The series consisted of five sessions, and each session was dedicated to one engagement strategy and included a guest speaker from our Senior Leadership team. It also included a discussion session for our managers to learn from and connect with each other and review PCG's Engagement Principles Guide.
At the beginning of 2022, with a continued focus on our people and the topics most important to them, the firm also created and facilitated the virtual discussion series, "Focus on Diversity and Inclusion." Throughout this series, managers reflected on the power of difference in the workplace—be it racial, gender, class, or perspective. We recognize that our managers are essential in the process of leading diversity, inclusion, and belonging at PCG.
As our company focuses on engagement, diversity, and inclusion, PCG will continue to find new ways to inspire and motivate our managers to effectively integrate connection and difference into the core of what we do every day. It's all about people.