PCG Participates in North Carolina's 12th Annual Students@Work Program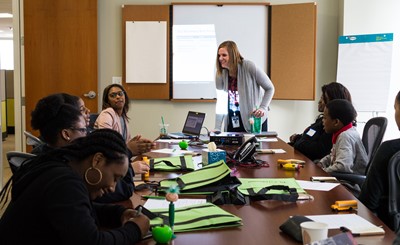 PCG colleagues in North Carolina participated in the state's Students@Work career awareness program this March, introducing approximately 60 middle school students to a career in public sector consulting. Launched by the North Carolina Business Committee for Education (NCBCE) in 2011 in partnership with the North Carolina Department of Public Instruction (NCDPI), Students@Work is a job-shadowing initiative that exposes students to real-world business environments. The program seeks to build students' awareness of career pathways that exist in their communities and throughout the state, as well as the skills needed to do those jobs.
PCG was one of 150 businesses to participate in the Students@Work program in 2022, exposing approximately 28,000 students from across North Carolina in career awareness opportunities throughout the month of March. On March 2nd, middle school students from Wake Young Men's Leadership Academy were among those that engaged virtually with North Carolina employers – including PCG – in a series of online presentations focused on careers in Education, Health Care, and Public Service.
Now in its 12th year, Students@Work has engaged nearly 274,000 middle and high school students across North Carolina, according to a proclamation by Governor Roy Cooper on February 28, 2022. Prior to the pandemic, PCG and hundreds of other North Carolina businesses welcomed students into their workplaces for in-person job shadow days as part of the program. (You can read about PCG's Students@Work participation in 2017 here, and in 2018 here.) For the past two years, employers have connected virtually with students as a precaution against COVID-19. PCG's team opted for a virtual format that involved a recorded presentation followed by a live question-and-answer (Q&A) session between employees and students. Click to watch the recorded presentation.
Commenting on the program, Ladd Van Devender, a manager within the firm's Education practice, said: "Participating in an event like this is such a wonderful lift for our team. PCG has engaged with the Students@Work program for several years now, and we love the interaction with young scholars and having the ability to support their career exploration. Being able to continue this year has made it even more rewarding knowing that students have less opportunities to interact with community businesses due to the pandemic."
On March 2, 2022, Governor Roy Cooper proclaimed March 2022 as Students@Work℠ Month in North Carolina. Read the official press release here.
For more information about Students@Work and the NCBCE, visit: https://ncbce.org/initiatives/.