PCG Proudly Sponsored the Virtual Women's Leadership Forum in 2020!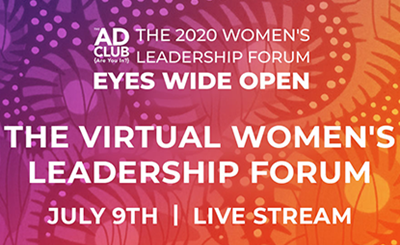 The Virtual 2020 Women's Leadership Forum, hosted by The Ad Club on July 9th, was a major success! Public Consulting Group, Inc. (PCG) was a bronze sponsor again this year, and the theme was, Eyes Wide Open: A Forum to Celebrate Those Who See Things Clearly and Are Taking Action.
Our organization first became an official sponsor in 2018, and 10 women staff members attended. Jill Reynolds, Associate Director, Human Services, said, "we initially became involved with this event when we learned about the caliber and diversity of the speakers involved. Originally taking place in Boston, this was an event we could use to provide a professional development and networking opportunity for staff representatives, so they could bring back goals and action plans for their broader teams."
In 2019, PCG increased our sponsorship and number of woman attendees to 20, selected by lottery. The event was on location in Boston last year as well.
This year, when the event transitioned to a virtual forum due to the COVID-19 emergency, we were able to make the Women's Leadership Forum an open event and invited all PCG staff members to attend.
Speakers at this year's event included:
Gloria Steinem, Writer, Political Activist, Feminist
Aly Raisman, Gold Medal Gymnast and Activist
Maura Healey, Massachusetts Attorney General
Carly Zakin & Danielle Weisberg, Co-Founders & CEOs, theSkimm
Carol Leonnig, Pulitzer Prize-winning Reporter: The Washington Post; Author: "A Very Stable Genius"
Gina McCarthy, Former EPA Administrator; President & CEO, NRDC
Big Sisters/Deb Re
Deesha Dyer, Former White House Social Secretary, Activist, Community Organizer
Meredith Goldstein, Advice Columnist & Entertainment Reporter: The Boston Globe
Mothers And Daughters:
Jennifer Huckman & Becca Rose Huckman; Becca Pizzi & Taylor Pizzi-Neill; Jane Swift & Sarah Hunt
Demane Davis, Producer & Director, Netflix Series: "Self Made: Inspired by the Life of Madam C. J. Walker"
Alondra Bobadilla, Boston's Youth Poet Laureate, Accompanied by Grace Kelly, Musician
On July 9th, 377 PCG staff members – including colleagues from every practice area and corporate department – attended the event remotely from across the U.S. and the U.K. This is the first time PCG has been able to offer an open, virtual event like this where so many employees had the opportunity to be involved.
During the virtual forum, attendees had the option to chat with one another in real time in PCG's internal chat room as well as a private chat room provided by the event's host, The Ad Club. Corporate Marketing's Trey Reilly said, "we've gotten great feedback on the chat room experience. Attendees liked how it helped to keep everyone connected during the event even though, physically, we were so far away from each other."
Prior to the event, participants were encouraged to attend a PCG pre-event meeting that included instructions and logistics. In addition, a post-event meeting was offered during which smaller, designated chat rooms were established, so all attendees could share their experiences, goals, and action plans, individually. The information shared in the smaller chat rooms was then shared collectively with a rejoined, larger chat room.
Of the event's immense success, Kathy Fallon, Director, Human Services, said, "I found the 2020 Women's Leadership Forum to be educational, entertaining and inspirational." 
Jill Reynolds said, "we're so pleased and excited about the large number of PCG participants at this year's event. It's incredibly important for our organization to support events like this, because they're so inspirational and informative in often totally unexpected ways."
Fallon continued, "having the opportunity for a shared experience with so many PCG staff from all practice areas and from all over the U.S. was particularly powerful during this pandemic."   
Thank you to everyone who attended this incredibly important event and shared valuable goals and action plans for change both now and in the future!
About Public Consulting Group
Public Consulting Group, Inc. (PCG) is a leading public sector solutions implementation and operations improvement firm that partners with health, education, and human services agencies to improve lives. Founded in 1986 and headquartered in Boston, Massachusetts, PCG has over 2,500 professionals in more than 60 offices worldwide—all committed to delivering solutions that change lives for the better. The firm has four designated practice areas with extensive experience in all 50 states, clients in six Canadian provinces, and a growing practice in Europe. Often combining resources from two or more practice areas, PCG offers clients a multidisciplinary approach to solve their challenges or pursue opportunities. To learn more, visit www.publicconsultinggroup.com.