Support for the New CASE Specification Announced
Boston, MA, June 17 - Public Consulting Group, Inc. (PCG), in collaboration with HMH, D2L, ACT, SchoolCity, Capella University, Trinity Education Group (TEG), SAFARI Montage, Instructure, Elumen, Learning Objects, IBM, Pearson, the Georgia Department of Education, Houston Independent School District, the Smarter Balanced Assessment Consortium, and the Texas Education Agency, are pleased to support the expected approval of a new technical specification by IMS Global Learning Consortium (IMS Global) called the Competency and Academic Standards Exchange (CASE).  
CASE establishes a new, global technical standard for the exchange of machine readable, linked data versions of state and national learning standards, local learning objectives and targets, and any workplace, military, or higher education competencies representing skills, knowledge, or abilities.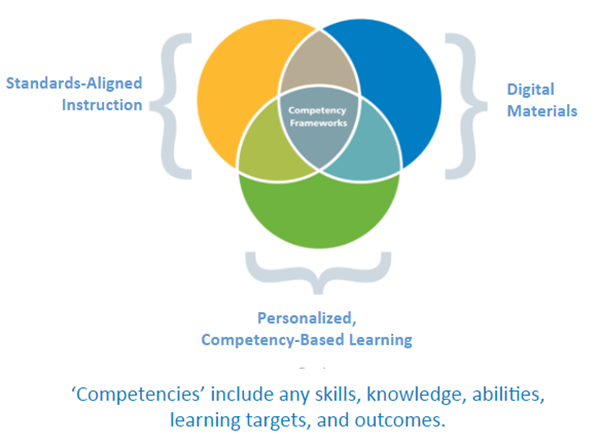 "Whereas in the past, such frameworks were typically published as pdf files for humans to read and use, the CASE format enables teaching, learning, and assessment software systems to access or consume competency frameworks and crosswalks" Rob Abel, CEO of IMS Global, explained.
"Prior efforts to organize digital repositories of open content have lacked the equivalent of the Dewey Decimal System, resulting in "piles of files" the way that a library without an index would be like piles of books," said Greg Nadeau, the Manager at PCG who has been leading this effort.
According to Dr. Leng Fritsche, retired Assistant Superintendent for Assessment, Houston Independent School District (HISD) and now an advisor to SchoolCity, the district served as a catalyst for the CASE specification when its efforts to link assessment results with digital content using existing IMS Global specifications were challenged by the lack of consistent identifiers for the state's Texas Essential Knowledge and Skills (TEKS).  PCG, D2L, HMH, and TEG responded to the need by creating a task force within IMS Global that resulted in the CASE specification.  Capella University, eLumen, and Learning Objects later joined the effort, expanding the scope from K12 to higher education and workforce.
To support CASE, PCG; OpenEd, a division of ACT; and SchoolCity, a leading formative assessment provider, have launched an open source project called OpenSALT, that provides a free, IMS-conformance certified tool that enables education organizations to manage and publish frameworks and crosswalks to other standards.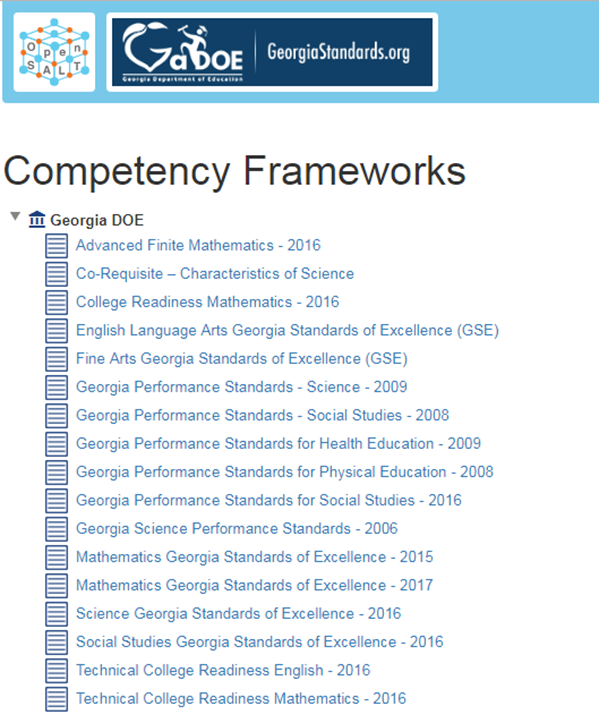 The Georgia Department of Education is the first state agency to publish their learning standards in the CASE format.  The Texas Education Agency and Smarter Balanced Assessment Consortium are expected to soon follow.
"We are pleased to be part of this ground-breaking effort to help Georgia's students access high standards and expand learning opportunities," said Dr. Caitlin McMunn Dooley, Deputy Superintendent for Teaching and Learning at the Georgia Department of Education.
According to Keith Osburn, Associate State Superintendent, Virtual Learning, Georgia Department of Education  "CASE provides the missing Rosetta Stone to facilitate the automated exchange of open educational resources content by enabling individual educators to discover content tagged to other frameworks through a crosswalk to their own standards.  This resolves the biggest single barrier to blended learning."
"Having this machine-readable data – rather than a 'stack of PDFs' – will assist Georgia districts, schools, and those creating curricular material and open educational resources in ensuring tight alignment to our state's academic standards," Georgia State School Superintendent Richard Woods said. "Our standards are created with the direct input of educators, parents, students, and the community, so it's a top priority for us to ensure that the resources available to teachers are well-aligned."  
###
CASE is a new IMS Global specification expected to be approved and made available publically the week of July 19, 2017. To learn more visit https://www.imsglobal.org/introduction-case-competencies-and-academic-standards-exchange-case
OpenSALT is the MIT licensed open source community and tool tool to manage CASE Frameworks.  The OpenSALT source code is hosted at GitHub.   To learn more visit OpenSALT.org community site https://sites.google.com/view/opensalt/home
Public Consulting Group, Inc. (PCG) is a leading public sector management consulting and operations improvement firm that partners with health, education, and human services agencies to improve lives. Founded in 1986 and headquartered in Boston, Massachusetts, PCG has nearly 2,000 professionals in more than 50 offices around the US, in Canada and in Europe. PCG's Education practice offers consulting services and technology solutions that help schools, school districts, and state education agencies/ministries of education to promote student success, improve programs and processes, and optimize financial resources. To learn more, visit http://www.publicconsultinggroup.com/education/.
Media Contact: 
Greg Nadeau
(781) 370-1017
gnadeau@pcgus.com
www.publicconsultinggroup.com