Video Highlight: Vermont High School Educators Share Transformative Experiences with PCG's Online Course, Courageous Conversations about Race with Glenn Singleton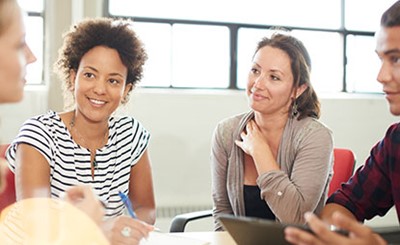 For the past three years, Mount Mansfield Union High School in Jericho, VT, has partnered with Public Consulting Group (PCG) to engage in the online learning course, Courageous Conversations about Race with equity expert Glenn E. Singleton. The course is part of PCG's online professional learning program that focuses on equity, inclusion, and cultural competence in education. Two-thirds of the high school staff—including the principal, teachers, and specialists—have completed the course to fulfill their school-wide, culturally responsive initiative.
Through Courageous Conversations about Race, school districts across the U.S. can learn how racial disparities impact students in their district and how to engage in productive and transformative conversations about race. The course provides an essential strategy for school systems and other educational organizations to address racial disparities through safe, authentic, compassionate, and effective cross-racial dialogue.
Given the success of the course's implementation at Mount Mansfield Union High School, a testimonial video was filmed and produced by PCG that captures participants' experiences, sentiments, and outcomes. In the video, Principal Mike Weston said, "I 100 percent endorse the Courageous Conversations course to help schools, and PCG's model is a very effective way of helping schools take steps needed to move forward."



In addition to Principal Weston's comments, the school's media specialist along with an intensive needs special educator shared that the course is "the most impactful course we have ever engaged in." One of the school's English teachers also said that he would "unequivocally recommend the course to educators and anyone working with students and helping young people see and make sense of the world."
To learn more about this course and other offerings in our series of equity-in-education courses, visit PCG's Online Professional Learning Programs web page.