A Conversation with Military Veteran and Director of Talent Acquisition at PCG, Guy Reynolds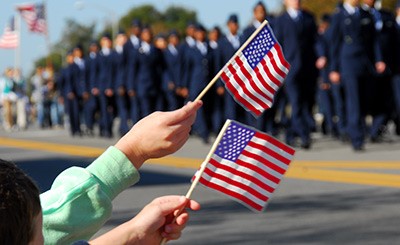 As the Director of Talent Acquisition at PCG and an Army National Guard Veteran with more than a decade of service on his resume, Guy Reynolds' civilian and military careers afford him a number of different—and valuable—perspectives: as an employer, an executive leader, a recruiter, a veteran jobseeker who's transitioned to civilian life, and Army Sergeant (E-5), to name a few.
We spoke with Guy in the lead up to Veterans Day to learn more about him; his mission to bolster PCG's efforts to recruit and retain more veteran employees; and his vision to establish the firm as an employer of choice for those who have served in the armed forces and those who continue to serve, including active duty servicemembers, Reservists, members of the National Guard, and military spouses.
Q: Based on your experience transitioning from the military to a civilian career, what advice would you give to a jobseeker who recently transitioned from military-to-civilian status and is embarking on their job hunt? What do you wish someone had told you or perhaps what did someone tell you that you consider valuable advice?
Guy: The military trained me to be committed and disciplined; it's about readiness and attitude, be persistent, and be patient. Take advantage of all of the resources the military gives you, including military transition offices, for example.
Q: What attracted you to PCG? In your opinion, what makes PCG a good fit for employing individuals with a military background (whether veterans, active duty, reservists, guardsmen, and spouses)?
Guy: Public Consulting Group is a "mission-driven company" focused on the public sector so there is a sense of public service that comes with the job. It was an "Honor to Serve" in the military, and it is an honor to work here at PCG. It's a fast-paced environment and you need to be able to multitask to get the job done – the military trained us to do just that.
Q: Veteran recruitment and retention is a strategic priority at PCG, correct? Can you give any insights into how the firm is working to create pipelines for veteran employment?
Guy: Yes, it is definitely a priority for the firm: We attend three (3) on Military Base Job Fairs each year and are working with several different vendors on a "Military Transitioning Program" to help soldiers transition into the civilian work force. We are also working on a veteran mentor program, and with the help of Military.com and HireMilitary, we have some GREAT partners helping us grow PCG's military veteran employee base.
Q: You established PCG's first Military Networking Group (MNG) earlier this year and have already engaged more than 50 employees through that initiative. Can you tell us more about this group and its mission?
Guy: PCG's MNG is a group we have established for military veterans, active duty servicemembers, and military families that is dedicated to building an authentic and purpose-driven employee resource group. This group is "Driven to Serve." MNG will help the firm recruit top current and former military talent and will help to showcase the skills the military brings to PCG: Commitment – Focus – Discipline.
Q: Anything else you'd like to share?
Guy: I'm incredibly proud and appreciative of the experiences and opportunities I've had thus far in my career – both military and civilian. Now that I'm in a position to help other veterans access meaningful employment with a firm that exists to serve the public sector, I look forward to supporting others who have served and those who continue to serve on their career journeys. To that end, PCG has more than 200 open positions at any given time, and we welcome all interested applicants to learn more about current opportunities here.
If you are a veteran, active duty servicemember, or military spouse who is interested in learning more about a career with the firm or our Military Networking Group, please feel free to contact me directly. I hope to hear from you, and I thank you for your service!
Thank you for your service, Guy! To all those who have worn our country's uniform and their spouses and families, we are sincerely grateful for the extraordinary sacrifices you have made in the name of freedom. Learn more about our veteran employees and those who continue to serve in the Armed Forces in this Message of Thanks to Members of Our Military Community.
Happy Veterans Day.