Announcing Our FY23 EPIC Awards Winner for Impact!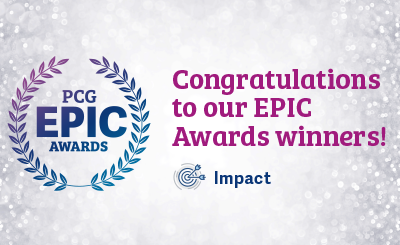 PCG's quarterly employee recognition program, aptly-named the EPIC Awards, is designed to help bring the firm's four core tenets—Entrepreneurial Spirit, Passion, Impact, and Community—to life in a tangible way. Today, we are thrilled to announce that Mary Ellen Hannon, a senior associate of data services within our Education practice, has been selected as PCG's newest EPIC Awards winner in recognition of the Impact she has had on colleagues, clients, and systems while delivering solutions that matter to those we serve.
Mary Ellen was nominated by Anna d'Entremont, an Associate Manager within our Education practice, for her impact internally on her team and externally on her clients. During her 10 years at PCG, Mary Ellen has not only served as an excellent leader and role model to other PCG staff, but also demonstrated fierce passion for and dedication to improving schools and students' lives. Most recently, she has been a key contributor to PCG's work with the Alabama State Department of Education (ALSDE).
Delivering Impactful Solutions
One of PCG's core tenets is delivering solutions to some of our client's most pressing challenges, which Mary Ellen has thoroughly demonstrated in her work with the ALSDE. In 2019, the Alabama State Legislature contracted with PCG to conduct an organizational analysis of the ALSDE to improve statewide student performance outcomes. Due to the success of that project, the state has re-contracted with PCG annually for the past three years to ensure implementation fidelity of report recommendations. As part of this work, PCG provides strategic advising and technical assistance to the State Superintendent and his senior leadership team. Mary Ellen is a key member of the project team and has ensured the completion of over 100 action items that have been undertaken by the ALSDE. These efforts directly contributed to Alabama's drastic improvements in the 2022 National Assessment of Educational Progress (NAEP), a nationally administered education assessment that compares math and reading scores across states.
Commenting on Mary Ellen's EPIC Awards nomination, Dr. David Driscoll, former Commissioner of Education of Massachusetts and current PCG subcontractor, said, "Working with Mary Ellen Hannon and ALSDE has been a personal and professional privilege. She has this unique ability to have very frank discussions and hold people responsible, yet those same administrators in Alabama universally respect and value her as a colleague. Within the first year of our work, we gained great insight into what was really happening because so many of the senior staff confided in her. I believe Mary Ellen had a direct impact on the most impressive NAEP gains this past year."
Dr. Eric Mackey, State Superintendent at ALSDE, agrees that Mary Ellen has played a significant role in delivering impactful education solutions and said, "As we have worked to build and execute new plans for schools across our state, Mary Ellen has been an excellent complement to our staff and their work. We all need an expert who can lean into the work with us—someone who will also let us bounce ideas and work through concerns. Mary Ellen had been that work-alongside partner for our staff, and we are better for it."
Sean Stevens, coordinator of Instructional Services at ALSDE, extended this sentiment and said, "Mary Ellen's passion, persistence and candor has directly impacted my work, my team's work, and the overall work of the ALSDE. We absolutely would not have made the progress that we did without her support." 
Building Meaningful Relations
Although Mary Ellen is tenacious in developing and implementing effective education solutions, she never loses sight of the most important factor to any project's success: building longstanding and meaningful relationships. Angela Martin, Deputy State Superintendent at ALSDE, commented, "Mary Ellen has worked hard to develop relationships with the team members focusing on trust and measurable improvement opportunities for boys and girls in Alabama."
Care for others remains at the core of her work with her team and clients. Mary Ellen provides mentorship and support to ALSDE team members across teams and levels, including seven members of senior leadership, by holding them accountable to action items, making connections across their work, and strengthening their leadership capacity.
Reflecting on Mary Ellen's impact on a personal level, Dr. Elisabeth Davis, recently retired Assistant Superintendent of Teaching and Learning at ALSDE, said, "For this quarter's PCG EPIC Awards theme of impact, there is no one more deserving than Mary Ellen Hannon. Not only did she impact the work of the Office of Student Learning at the ALSDE, but she also impacted me as a leader, a supervisor, a mom, and an educator. She was relentless in her support and coaching efforts, yet at the same time she had a reassuring presence while challenging you to think about how to make the best out of the challenge or situation."
Please join us in congratulating Mary Ellen for this well-deserved recognition of her commitment to helping PCG deliver solutions that matter to our clients and those they serve. It is because of colleagues like Mary Ellen that PCG continues to make an impact in the communities where we live and work.