Recognizing impactful employees – PCG is proud to announce our newest EPIC Awards winner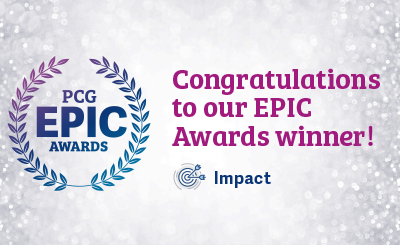 Four tenets are used to define how we at PCG pursue our mission: Entrepreneurial Spirit, Passion, Impact, and Community. Our quarterly EPIC Awards program is designed to help bring these four principles to life in a tangible way. As such, we are thrilled to announce that Damia Mendoza has been selected as PCG's newest EPIC Awards winner in recognition the Impact she has had – and continues to have – on the firm, her colleagues, and PCG clients while delivering solutions that matter to those we serve.
Damia was nominated by her manager James Dachos for her commitment to Diversity and Inclusion (D&I) initiatives at PCG, and more generally, for being a champion of the fair and equitable treatment of all people, regardless of background. Though she was nominated for the Impact category, the truth is that Damia embodies what it means to be EPIC: she's entrepreneurial, passionate, impactful, focused on community, and would be a worthy recipient of any quarter's award. This fact was evidenced in the stories and insights shared by James and PCG colleagues who contributed to Damia's official nomination. Read on to learn more about the impact of Damia's efforts.
Project "Team Culture"
Immediately after joining PCG in July 2018, Damia got to work developing programs and practices to better support and engage colleagues on her team within the Health Care Financing Solutions (HCFS) business line. She initiated a workgroup called "Team Culture," which was charged with creating a greater sense of community within her direct team. Through this effort, she brought new and innovative ways to connect the team more closely through communication channels, team newsletters, and fun challenges. The impact of the "Team Culture" workgroup is still apparent today: it has helped bring a team spanning multiple offices and remote working environments closer together and has encouraged a noticeable increase in staff engagement. Damia's drive to build and sustain team culture continues to impact colleagues, arguably more so now than ever before with nearly every PCG employee working remotely for the past year in response to the COVID-19 pandemic. She continues to challenge the status quo and implement support systems for staff at PCG and remains committed to finding new ways to ensure PCG staff of all backgrounds feel valued and engaged.
Firmwide Impact
It wasn't long before Damia identified the potential for similar engagement opportunities across the broader PCG community. At the corporate level, Damia helped lead the effort to initiate PCG's Diversity, Equity, and Inclusion (DEI) group on Yammer, which brings together individuals from across the firm to discuss important issues such as inequality, systemic racism, educational equity, and more. This platform enables staff across PCG to share personal experiences and opinions in a safe and supporting environment.
Damia has also contributed greatly to PCG Cares efforts. Prior to the pandemic, for example, Damia coordinated an office clothing drive to benefit individuals in Denver who were experiencing homelessness, volunteered at local fundraising events, and designed and implemented several "green" initiatives including an office composting program. She also served on PCG's Los Patojos project team – traveling to Jocotenango, Guatemala in February 2020 to help the school's dedicated staff and teachers develop a strategic plan for the future.
More recently, Damia has worked with members of the D&I Council to help bring forward ideas and support efforts contributing to the betterment of D&I at  PCG. Within her team of 36 colleagues, Damia brought forth the concept and practice of regular team D&I discussions, where individuals can share and learn about racial injustices in light of current events. Through these efforts and others, she has helped enhance the way we work together and support each other during the most difficult of times. There is no denying that Damia's contributions have had a resounding impact on her team and the firm.
Below are several testimonials providing additional insight into the impact of Damia's passion and commitment to the betterment of PCG's community, and the client experience as a whole.
Feedback from Colleagues
To help paint the picture of Damia's impact, colleagues from across the firm--including team members and individuals from other practices within PCG—shared the following endorsements for Damia's nomination.
"Since I started at PCG in 2018, I've noticed countless times how much Damia is dedicated to making sure everyone on the team feels included and her clients respected. Whether it be reaching out to see what holidays are celebrated within the team, making sure she is using inclusive language with colleagues and clients, or personally reaching out to connect to different individuals at work simply to connect, Damia has made such a personal impact on our team and really helped create a team culture where we all feel included in and strive to keep. More recently with racial injustice coming to light since George Floyd, she has committed much time, effort, and patience to not only educating herself outside of work on what inclusivity means but recognized immediately the need to talk about this at work for both our team's benefit as well as our client's benefit. And so, she created a productive outlet that has been very fulfilling during these times--when we all were seeing it every day on the news or in real life, it was great to have the outlet at work to talk about this. She really does go above and beyond to create a sense of community and we very much appreciate all her hard work!"
-Operations Analyst
"Since Damia has started at PCG, I have watched her become a staple with the HCFS practice area and larger PCG community. Damia's passion and positivity that she brings to her work and D&I efforts is contagious. I look forward to seeing the impact she brings to this organization in the future."
-Senior Consultant
"Over the past two months, I have been fortunate to interact with Damia on the Yammer and D& I initiative and have seen the impact she has had on our D&I community. Damia has personally taken on the challenges of providing a platform where individuals can express their opinions, concerns and frustrations surrounding issues of equity and inclusion. In addition, Damia's passion, commitment and concerns for others in unyielding in her efforts to support and give voice the needs of others. She is a bright and rising star within our firm that will have a significant impact as she continues to let her inner light shine! I strongly recommend her for this outstanding award in recognition of the value she has added to our community."
-Manager
"I believe Damia continually upholds what it means to be part of a community within the PCG family. Damia is passionate about her diversity & inclusion efforts and has even empowered me to lead a meeting relating to community and togetherness. I believe Damia is an excellent candidate for the E.P.I.C award."
-Operations Analyst
"Damia's tenacious efforts in broadening her team's perspectives on diversity and inclusion have led to a palpable sense of increased curiosity, compassion, and empathy. She embodies the EPIC spirit, and my hope is that she continues to use this intrinsic force to make PCG a more diverse and inclusive company."
-Business Analyst
"Damia's ability to effectively connect with and support a wide range of clients regardless of their position within their respective organization is a prime illustration of PCG's EPIC tenets. Whether it be on help desk support lines or conference booths, Damia embodies and curates a sense of community and genuine connection no matter the project she serves on throughout the country. In response to Covid-19 travel restrictions, Damia implemented the use of Poll Everywhere in our statewide Colorado EMS cost report training material to ensure that clients remain engaged and intrigued throughout."
-Consultant
"Damia's efforts, enthusiasm and commitment to issues related to equity, diversity and inclusion are noteworthy. Damia launched and has been the lead facilitator for PCG's Equity & Diversity Yammer page and has sought to create a space for those committed to equity at PCG to have a voice and forum for discussion."
-Manager Operations

Please join us in congratulating Damia for this well-deserved recognition of her hard work and steadfast commitment to supporting the PCG community, our clients, and those they serve. It is because of colleagues like Damia that PCG continues to make an impact in the communities where we live and work.