Transform your Medicaid program's payment model – save costs while improving the quality of care and enhancing patient experience. PCG can help.

Value Based Purchasing (VBP)
is a payment strategy to measure, report, and reward excellence in health care delivery. Simply put, it is an effort to reward value over volume.
VBP payment methodologies are implemented to achieve three primary objectives:
---
Achieve Cost Savings.

 

Removes payment associated with VBP1 variability by incentivizing provider behavior change to deliver more effective care.


Improve the Quality of Care.

 

Measures and improves the quality of care through the reduction of potentially preventable complications and high cost care, such as hospital readmissions and emergency room (ER) visits.


Enhance the Patient Experience.

 

Puts more emphasis on the patient and, if implemented correctly, enhances the overall patient experience due to more seamless care coordination.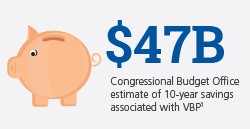 There are numerous VBP strategies that Medicaid programs can implement, including shared saving models, bundled payments, total cost of care models, and capitation payments. Strategies need to be evaluated and tailored to meet the specific goals and objectives of an agency's Medicaid population. Common focus areas for Medicaid programs include maternity care, behavioral health, and chronic care conditions.
How can PCG Help?
---
Strategic Data Analysis
---
PCG has access to a robust data analytics platform that can seamlessly pinpoint opportunities for VBP payment reform. We use this platform to identify instances, specific services, programs, and/or procedures that have high payment variability due to complication costs, unnecessary services, and readmission rates. change to deliver more effective care.


VBP Design Modeling
---
Because Medicaid programs have unique challenges due to the fragile patient populations they serve, multiple VBP strategies and/or methodologies will often need to be developed. We help Medicaid programs define and design these various VBP payment models, including establishing cost benchmarks, identifying appropriate quality measures, and outlining cost saving arrangement parameters.


Fiscal Implication Assessment
---
We help Medicaid programs model and extensively vet strategies to ensure appropriate risk adjustment and establishment of appropriate stop loss provisions. Our team can also model the potential fiscal impact to providers, including safety net providers, which require particular focus.


Stakeholder Training
---
Providers, Medicaid managed care organizations, and other stakeholders need training on VBP, and may also need tools to help them to assess readiness. We can design training programs to prepare stakeholders and ensure VBP methodologies are successfully adopted.


Ongoing Operations and Support
---
Our team can design, implement, and operationalize VBP payment reconciliation scorecards to identify cost savings achieved or not achieved. Ongoing monitoring is critical to continuously evaluate VBP methodologies, and we can assist these efforts and offer suggestions on how to improve payment models.