With the onset of COVID-19 and the ongoing Public Health Emergency (PHE) designation, states have been forbidden from disenrolling ineligible Medicaid clients and limited in their ability to verify self-attestations on new Medicaid applications in exchange for enhanced federal funding. As a result, nearly every state's Medicaid population has grown considerably since the onset of the pandemic and nearly every Medicaid client covered by states has not been subject to a complete eligibility redetermination in at least 12 months.
This situation presents a number of unprecedented challenges for states, the most significant of which are as follows:
The enhanced 6.2 percent federal funding provided by the CARES Act will expire with the conclusion of the PHE. Despite this, states will still be making payments (without the benefit of the enhanced FFP) on behalf of your most egregiously ineligible clients until you can catch up on the backlog of "auto-renewed" clients who have not been subject to a complete verification of eligibility for more than 12 months.


CMS' December 2020 State Health Official (SHO) letter

[1]

indicated that states have just six months to catch up on pending eligibility actions or they would be subject to increased scrutiny and potential audits when they stated "…all other pending COVID-related eligibility and enrollment actions for up to six months, following the end of the month in which the PHE ends… States that do not meet the timelines outlined in this letter will be at increased audit risk and corrective action may be necessary…"


This same SHO letter reiterated the need for states to expeditiously "catch up" on the backlog of eligibility redeterminations following the conclusion of the PHE, including verifying the legitimacy of any self-attested information which led to eligibility, as follows: "CMS also expects states to initiate verifications of all eligibility criteria for individuals enrolled based on self-attested information, where additional verification is required under regulations and the state's verification plan renewals, and redeterminations based on changes in circumstances during the PHE…"


Therefore, when the PHE ends – currently scheduled for April 2021 – states will have to either (1) rush to redetermine the eligibility of nearly their entire Medicaid population or (2) simply auto-renew all clients for another year and, by doing so, absorb the cost of continuing to pay for egregiously ineligible clients while you catch up on eligibility redeterminations (without the benefit of the enhanced federal match).
Solution: Public Consulting Group (PCG) is offering our agency clients a no cost, risk-free, automated ex parte eligibility redetermination solution, in accordance with 42 CFR § 435.916(a)(2) and facilitated through PCG's Instant Eligibility Verification System (IEVS). Proven in three states – including a top 3 Medicaid program – PCG's IEVS uses dozens of third-party data sources, combined with eligibility policy-based analytics, to allow us to instantly perform an ex parte redetermination of the eligibility of a state's entire Medicaid population in the days following the conclusion of the PHE. This will allow states to:
Eliminate the unnecessary staff time associated with manually renewing the eligibility of more their entire Medicaid populations.


Eliminate beneficiary responsibilities, hassle and abrasion by leveraging the "ex parte" renewal process offered by PCG's IEV in accordance with 42 CFR § 435.916(a)(2).


Prioritize any needed formal agency renewal activities by quantifying the level of ineligibility risk each client represents.


Flag egregiously ineligible clients on Day 1 following the PHE, rather than continuing to pay for them for up to 12 or more additional months after your enhanced federal funding has been discontinued.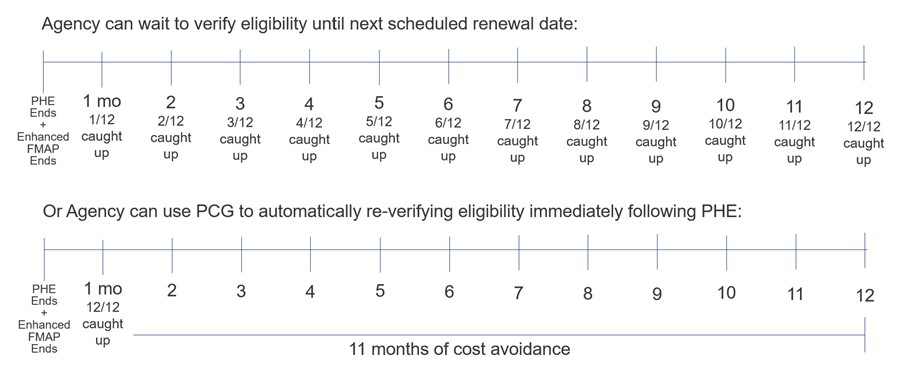 How it Works: PCG's IEVS is completely configurable to reflect each client's specific eligibility policy, allowing us to match third-party data against policy-based rules to predict eligibility and flag fraud and ineligibility, as follows:
PCG will configure our IEVS' business rules to reflect the policy associated with each case type (i.e., category of assistance + household size)


The agency will export a one-time eligibility file to PCG via SFTP. This file will include the basic demographic details and categories of assistance associated with each adult case member/EDG.


PCG will query third-party data and perform a series of configurable data matches to predict eligibility.


Agency users will login to PCG's IEVS to obtain results, export results, and/or generate configurable client follow-up letters.
Financial Impact: As illustrated below, in a state with 1 million Medicaid clients who cost the state an average of $500 per month, the state can save nearly $140 million by using PCG's IEVS to automatically redetermine eligibility on day one following the PHE, rather than waiting until clients' next scheduled renewal date.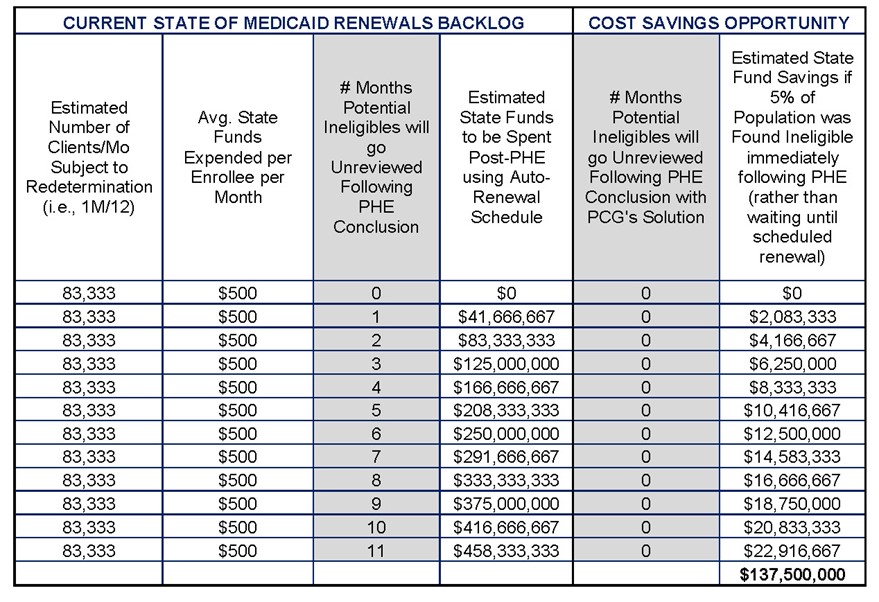 Pricing: PCG's proposed automated Medicaid eligibility redetermination service is available to our agency customers at no cost, through either enhanced Coronavirus Relief Funds (authorized through the CARES Act) and/or by hiring PCG on a contingency fee basis, with PCG's only fee being a nominal portion of cost savings which can be verified based on each terminated client's continued disenrolled status in the months following their termination.
Contact
Peter Cheesman, Manager
E: pcheesman@pcgus.com
P: 207-861-1950
[1]

https://www.medicaid.gov/federal-policy-guidance/downloads/sho20004.pdf