Announcing Our FY22 EPIC Awards Winner for Community!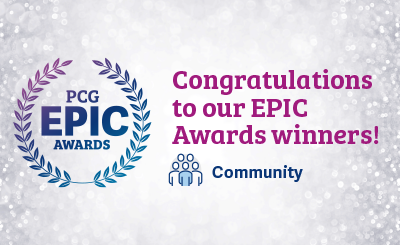 PCG's quarterly employee recognition program, aptly-named the EPIC Awards, is designed to help bring the firm's four core tenets—Entrepreneurial Spirit, Passion, Impact, and Community—to life in a tangible way. We are thrilled to announce that Julieann (Julie) Adamski has been selected as PCG's fourth quarter EPIC Awards winner in recognition of the inclusive, supportive Community she has helped to cultivate within her team at PCG as well as with our DCF client—a client she has served on behalf of PCG for more than two decades!
Julie was nominated by Beth Osborne, an associate manager on the Human Services team, for her 23-year-long (and counting) commitment to community – both internally at PCG and externally with our client partners – which she nurtures with strong interpersonal relationships built on trust, resourcefulness, a positive mindset, and empathy. These are just a few of the qualities Julie is known for demonstrating through her work with longtime PCG client, the Massachusetts Department of Children and Families (DCF).
A Pillar of Community
Since joining the firm in 1998, Julie has served as a Title IV-E ("Four-E") specialist on the DCF Revenue Management Unit (RMU) team within PCG's Child and Family Services Center of Excellence. DCF RMU supports the day-to-day revenue operations that fund child welfare service provision throughout the Commonwealth. A long-standing and high-performing member of the DCF RMU team, Julie is deeply invested in her work and recognizes the direct impact she and her team have on DCF's ability to make a difference in the lives of Massachusetts children and families who have experienced adversity. As a Massachusetts resident herself, Julie is passionate about serving children, youth, and families in need in the community where she lives and works. This passion is evident in the strong relationships she has cultivated with many DCF social workers over the years, particularly in western Massachusetts where she works. Julie is a go-to resource for DCF social workers and paralegals alike: if they have questions or need information about a child's case, they reach out to her knowing that she will respond quickly with actionable, clear answers.
A Relational Anchor
With PCG colleagues, Julie exemplifies the tenet of Community by helping to create a kind and inclusive environment for her team. She makes a point of identifying and affirming the accomplishments of others and sharing those observations with leadership. She also sends direct encouragement to people on the team regardless of their position or tenure. Whether providing comfort, inspiration, recognition, or solidarity, Julie's open, honest, and supportive communication style reinforces her passion for community. Described in her award nomination as a "relational anchor" for the team, Julie's colleagues see her as integral to the team's morale and stability.
Julie's direct supervisor, Tom Martin, shared the following endorsement with PCG's Human Capital Leadership Council in support of her EPIC Awards nomination:
"Julie's extensive knowledge in Title IV-E and her experience working at PCG has been essential for me succeeding in my role as the Title IV-E Supervisor. Julie is someone I rely upon when I need advice both professionally and personally, and she is always there to support me whenever I need her. Julie has also helped mentor members of the team during her time with PCG. We have an ongoing team chat, and bi-weekly team meetings where Julie is always very active; in those spaces, Julie will provide very detailed explanations to help the team learn the ins-and-outs of Title IV-E. Julie is a fantastic worker, she always brings a positive attitude, and I am very happy to call her a colleague and a friend."
Kerin Sullivan, Deputy Director of the DCF RMU team, highlighted the myriad ways Julie embodies PCG's core value of Community, stating:
"Julie consistently strives to be diverse and inclusive, working with and as part of our client communities to serve them wherever they go. Julie has been at PCG for over 23 years and throughout her time, she has remained a dependable, thoughtful team member. She truly cares about the work we do on the MA DCF RMU team and has a passion for child welfare. Julie regularly gives shoutouts and praises her coworkers...emailing [team leadership] regarding coworkers who she feels should be recognized for their work, or the support they provided to the RMU team and/or client. Julie has been a key resource for our client at MA DCF, and has spent many years working out of a MA DCF area office in the western part of Massachusetts. She is a trusted partner for the DCF social workers in her area, and they often reach out to her for assistance or questions. Julie is always prompt in her response, and if she does not know the answer, she is quick to seek the answer for the social workers. We couldn't have asked for a better representation of the Community value and commitment of PCG in our long-time client's office."
Please join us in congratulating Julie for this well-deserved recognition of her commitment to helping PCG deliver solutions that matter to our clients and those they serve. It is because of colleagues like Julie that PCG continues to make an impact in the communities where we live and work.