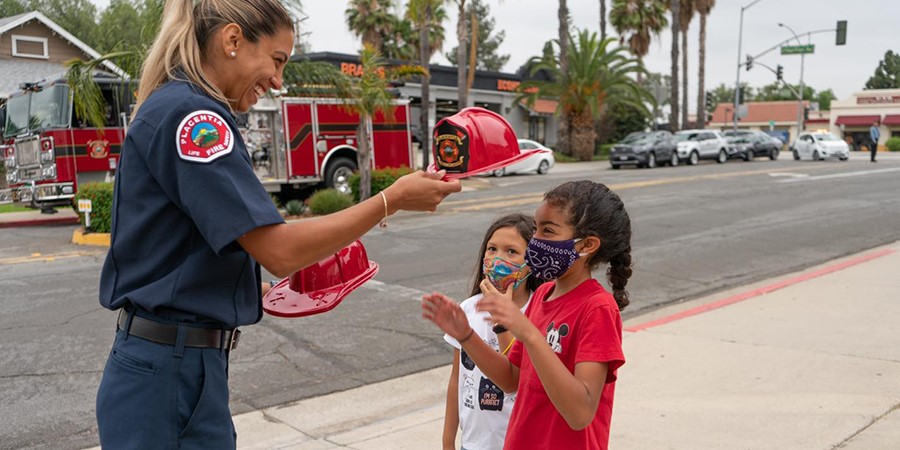 Photo courtesy of Placentia Fire and Life Safety Department
 
Whether your organization seeks to enhance service delivery, achieve financial sustainability and resiliency, improve benchmarking, or address other operational, budgetary, and regulatory challenges, PCG's team can help. As our fire and EMS provider partners can attest: teamwork and close collaboration are essential to the effective administration and delivery of public safety services. This team mentality is foundational to PCG's approach to public safety consulting as we work in close partnership with the more than 550 fire and EMS providers nationwide who trust PCG to help them navigate the complexities of today's healthcare environment. We offer a broad range of public safety consulting services that are backed by more than three decades of experience serving fire and EMS providers as well as extensive real-world experience in the administration and delivery of public safety services. Providers who partner with PCG benefit from the unparalleled knowledge our team of highly-qualified consultants and subject matter experts bring to every engagement.
Solutions that Matter
---
As a leading provider of public safety consulting services to hundreds of fire and EMS organizations nationwide, we are honored to design and deliver solutions that can impact and improve outcomes in the communities where we live and work. Here are just a few of the outcomes our team can help your organization achieve:
Enhanced delivery systems
Reduced EMS response times
Improved level of service
Reduced number of calls
Increased cost efficiencies
Minimized community risk
Optimized public support and funding



"PCG's team of Public Safety Consultants provided a comprehensive analysis of the cost and implementation process for fire and EMS services, that helped our city officials reach a decision that was in the best interest of the residents and visitors to our City." – Jeffery Gary, Fire Chief of Coconut Creek


Why choose PCG?
---
Our firm has over 36 years of experience working with state and local government agencies as well as public and private medical service providers across the U.S. We are a leading provider of ground emergency medical transport (GEMT) cost reporting and cost recovery services. Partnering with PCG will enable you to leverage our proven approach, extensive knowledge, and experienced team to objectively assess the challenges your agency faces and identify the right solutions. 
Today, our team proudly provides consulting services to more than 550 public safety providers across the country. Examples include


Recent Success Stories
---

City of Placentia (CA)
Developing and implementing a new Fire & Life Safety Department for the City of Placentia (CA)

City of Coconut Creek (FL)
Conducting a Transitional Study for Fire and EMS Services for the City of Coconut Creek (FL)

Thornton Fire Department (CO)
Conducting a Cost and Rate Analysis for the West Metro Fire Protection District and the Thornton Fire Department (CO)
 "While it would have been preferred to work with the team in person, the digital communication worked out very well and the team produced an excellent final product. The PSCS team is amazing at what they do! A huge thank you from Tooele County!" – Daniel B. Walton, Fire Chief of Tooele County Fire Department

Let us help you find the right solutions for your public safety challenges.

PCG's public safety consulting approach applies numerous nationally-recognized best practices and industry standards, including
National standards developed by the National Fire Protection Association (NFPA)
Accreditation criteria from the Center for Public Safety Excellence's (CPSE) Commission on Fire Accreditation International (CFAI) Program
The Insurance Service Office's (ISO) Fire Suppression Rating Schedule (FSRS)
Accreditation criteria from the Commission on Accreditation of Ambulance Services (CAAS)
And more!
Consulting Services
---

Fire Department Management and Operational Efficiency Studies
Deployment and standards of coverage analysis
Response time analysis
Staffing analysis
Workload analysis
Service delivery cost analysis
Fire station location analysis

EMS System Studies
First-response and transport analysis
Service delivery cost analysis
Rate and fee setting analysis
System performance analysis
Fire Department and EMS Feasibility Studies
Alternative service delivery options
Mergers and consolidations
Ambulance transportation alternatives
First responder fees
Ambulance membership programs
Mobile integrated healthcare/community paramedic programs
Interested in learning more about these and other recent successful consulting projects? Contact us today at publicsafetystudy@pcgus.com.