A framework for helping educators create and maintain equitable policies, practices, and systems.
Equity in education means maximizing positive outcomes for every student through the examination and disruption of inequitable practices, policies, and people. At Public Consulting Group (PCG), our proven solutions are sustainable. We understand achieving true equity in education is a marathon, not a sprint. Our strategic and systematic approach to creating equity helps schools and state agencies assess challenges, implement solutions, and maintain equitable experiences for each student with fidelity. The Assess, Implement, and Maintain (AIM) framework is an approach designed to provide client-specific support at any stage of equity building. The framework helps determine what PCG offerings will best help you as you move along your path to educational equity.


PCG's Equity Building Framework for Education: Assess, Implement, and Maintain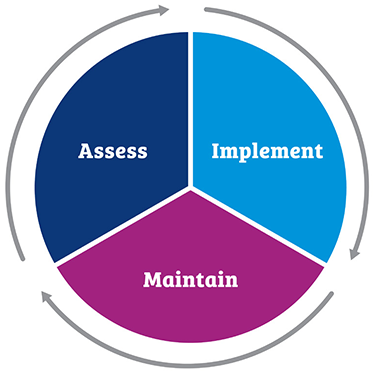 PCG's equity-focused education consultants assess challenges, implement solutions, and provide support to maintain equity through various products and service offerings. The AIM framework helps identify the offerings and services ideally suited to meet your unique needs based on where you are and where you're going. By examining your goals for assessing, implementing, and maintaining equity through the AIM framework, we can find the best solutions for your district's ongoing journey.
A

ssess Equity
Equity Readiness Assessment
Curriculum Equity Reviews/Audits
Equity Audits
Special Education, Inclusion, and Intervention Projects
Equity Snapshots
Culturally Responsive Teacher and Leader Surveys
Strategic Planning and Community Engagement
English Language Learner (ELL) Frameworks
Organizational Reviews with an Equity Lens


I

mplement Equity
Culturally Relevant and Equity-Centric Professional Development and Student Learning Sessions
Direct Student Services
Behavioral Threat Assessment
Equity Playbook for Leaders
Special Education Playbook
Special Education, Inclusion, and Intervention Projects
Equity, Cultural, and Linguistic Competency Courses


M

aintain Equity
Equity Coaching Series
Equity by Action Workbook
Special Education Support System
School Improvement Plan Tracking
Courageous Conversations About Race Online Course
Project Success
Transition Playbook
Custom Curriculum Development


---
Contact us
---
Contact us today to learn more about PCG's Equity Education Services.