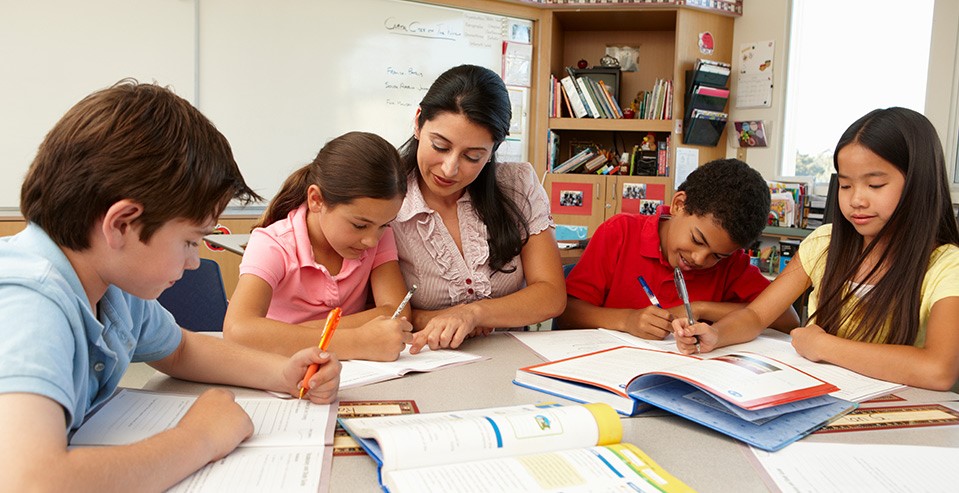 The best curriculum is the one that's made for you. Let PCG help your district 
Learn what works. Build what works. Do what works.
---
Curriculum is one of the most important learning investments a district makes, particularly when it comes to helping students realize the promise of college and career readiness. Students achieve more when a curriculum reflects their experiences, cultures, and strengths. This means that the best curriculum is one designed for your district and one that reflects your context and values. This is where PCG can help.
Recognized as a proven partner in curriculum design and implementation, PCG has worked with some of the largest educational organizations in the country, including New York State and the City of Chicago. We helped New York State design a free English Language Arts (ELA) curriculum for grades 6-12 and worked with Chicago to create a complete digital K-12 ELA and Math curriculum. Our team is ready to partner with you to help you ensure every student has access to rigorous, high quality curriculum and instruction.
Your district is unique. Your curriculum should be, too.
---
Educational excellence looks different for every district, so a customized solution is the best way to achieve it. We can help you learn what's working in your district, build a curriculum that works for you, and support you to keep it working effectively.  


To help you achieve your education goals, PCG offers customized solutions in three areas:

Learn what works: Curriculum reviews

Build what works:
Custom curriculum development

Do what works:
Curriculum implementation
Learn What Works: Curriculum Reviews
---
Real change starts with knowing what's working. PCG can help your district understand whether your current curriculum is getting results and use that knowledge to improve teaching and learning. Working with you, we'll design a review around your questions and concerns and tailor the review components to meet your needs. Once the review is complete, we'll guide your team through an action planning session that helps you take what you've learned and use it to reach your district goals. Here are a few ways we can help you learn what works.



Service Component


PCG will

Program Review


Examine relevant district data and documents to build background knowledge about student performance, supports, and guidance.

Conduct focus groups/interviews and administer surveys to explore perceptions, expectations, and experience with the curriculum.

Written Curriculum Audit


Analyze relevant curriculum documents (e.g., curriculum map, up to one quarter of content) to determine alignment with the standards.

Taught Curriculum Audit


Conduct classroom observations to obtain a snapshot of teacher instruction, including fidelity of implementation.

Learned Curriculum Audit


Review the learned curriculum, which is an indicator of quality for the written and taught curriculum (e.g., student work samples, state or local assessment results).


Curriculum Adoption Readiness Assessment


Administer a Curriculum Adoption Readiness Assessment to provide schools and districts with data about their readiness to adopt new curriculum.


Action Planning


Provide action steps for areas in need of improvement.

Ready to learn what's working in your district? Contact us.


Build What Works: Custom Curriculum Design
---
Your district, teachers, and students are unique. Your curriculum should be, too.  PCG will work with your district to make sure your curriculum reflects your students, community, priorities, and values.  When we help you build what works, your curriculum will:­­
Address Your Needs: Your curriculum will align to your standards and quality expectations, address your text priorities, focus on your strengths and areas of growth, and support your learners.
Represent Your Stakeholders: The design process includes the voices and choices of your team members, and offer opportunities for teacher and community feedback.
Assess Learning Effectively: We'll build a set of assessments that provide robust and actionable data so stakeholders can see what students know and what students need.
Work With Your Technology: Your curriculum will integrate with your existing technology ecosystem so it's accessible to everyone who needs it.
Highlight Your Community: The finished product will be immediately recognizable as designed for your local community. It will include and celebrate local authors, artists, community members, topics, and contexts.

When we're done, your students will have equitable access to a high-quality curriculum that's written for your district.
Want to learn more about how to build what works? These downloadable resources will help you get started:

Connect with a member of our team to get started today.


Curriculum Design Types
---
Your needs are unique, so PCG offers a variety of options to help you achieve a customized curriculum. Here are a few of our different types of curriculum design.
Text Set Updates
Supplemental Unit/Project Development
District-Created Curriculum Revision
Complete Custom Curriculum Development

Click here to learn more.


Focus Areas for Curriculum Design
---
Need some inspiration? Here are just a few of the areas we can focus on for your custom curriculum design project.
Equity and Cultural Responsiveness
Content Areas
Social-Emotional Learning
Universal Design for Learning
Co-teaching/Inclusion
Special Education


Click here to learn more.


Do What Works: Curriculum Implementation Support
---
A customized curriculum can change the way teachers think about teaching and learning, but only if they actually use it in ways that benefit their students. This makes professional learning and implementation support critical to the success of a curriculum. PCG's curriculum implementation support is unmatched.


"To this day, Paths has the best teacher support system of any program I've ever used…The support wasn't why [we] bought Paths, but it is a reason that [we] kept it." (Grades 11–12 Miami-Dade County Public Schools Administrator)

PCG can create a custom professional learning solution, based on your district's strengths, priorities, and systems. Doing so will support your district change management work and give your teachers what they need to use your custom curriculum effectively. Our team will also support your new curriculum through this transition by providing ongoing and dynamic guidance to help you get buy-in, have a successful rollout, adapt to feedback and needs, and pivot to improve effectiveness and adoption. We'll help make sure your teachers know how your curriculum works and how to use it to help your students achieve more.


"PCG worked closely with me to embed culturally responsive teaching while focusing on connecting theory to instructional practice. The participant feedback was amazing!" (Susan O'Brien, former State Director of Literacy, New Mexico Public Education Department)

Here are a few ways we can help you do what works.



Service Component


PCG will

Change Management


Support best practices in implementation and change management to drive successful curriculum adoption.

Professional Learning


Provide asynchronous and synchronous professional learning that prepares educators to implement the curriculum.

Includes options for summer professional learning institutes, quarterly institutes, and self-paced modules that are specific to units of instruction and priority instructional practices.

Coaching


Leverage our Playbook professional learning and coaching platform to support teachers and administrators, including goal setting; lesson planning and reflection; and creating opportunities for collaboration and sharing of resources.

Tracking Impact


Develop and execute a plan to track the impact of the new curriculum, providing the district with stakeholder feedback on the curriculum rollout, professional learning support, challenges, successes, and outcomes.

Whether you want to learn more about custom curriculum or are ready to get started in your district, our team is ready to help. Contact us today!