Special education teachers and leaders need support and development to build successful schools, but sustainable professional learning opportunities are hard to find—especially those that address real world challenges and fit into real world schedules. That's why Public Consulting Group (PCG) created Special Education Playbook.


A playbook for special educator success


Special Education Playbook is a personalized professional learning and coaching platform for all educators, from special education directors to special education teachers and related service providers.
It delivers just-in-time support through sequenced actions focused on specific needs, expert-curated resources, and access to a network of peers. We combine this with coaching, mentoring, and collaboration experience—all in one centralized place.


Why Special Education Playbook?
Special education directors, specialists, coordinators, teachers, and related service providers get support from PCG's special education experts along with a needs assessment and plays driven by the professional ethics and standards of the Council for Exceptional Children (CEC) and Professional Standards for Educational Leaders (PSEL). The program is tailored to individual areas of development, allowing educators to grow professionally while meeting the complex needs of today's students.

Special Education Playbook can help educators:
Focus on the strategic

Educators can prioritize actions that matter most and make the best use of their limited time and resources.

See results

Schools see real results because the coaching and resources are linked to strategic plans and school/district-wide goals.

Experience job satisfaction

Educators have access to coaching and community support to get through their toughest challenges and celebrate their successes.
How it works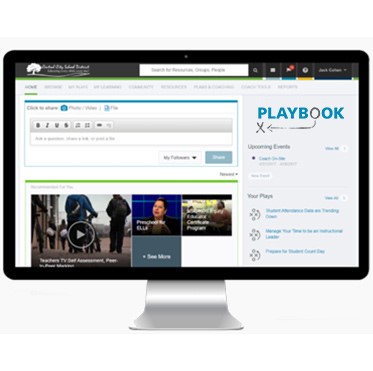 Educators who log in to Special Education Playbook arrive at a personalized online portal that summarizes their development plan and progress on action plans, or "plays," that are assigned by a coach, identified through a needs assessment, based on scheduled events, or driven by data alerts. In addition, educators can post messages to the community, take a course, access the resources library, request coaching, or view relevant data. Text and email notifications ensure that important data and tasks are never far from mind.